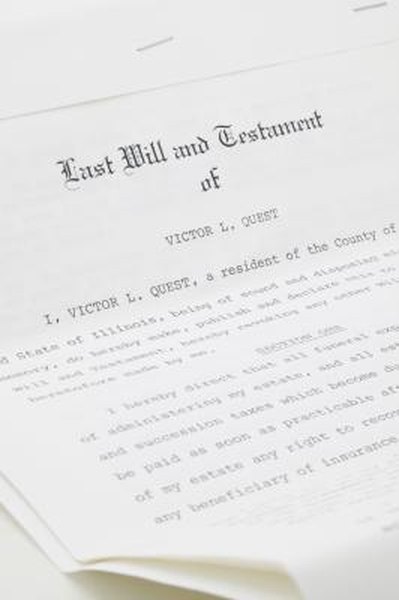 Several advanced estate planning techniques help families with specific goals for the future. Creating a revocable living trust, for example, directs how your property will disburse to your heirs after death, but it also instructs how your property should be managed if you become disabled. Another estate-planning technique names a guardian and creates a trust that protects and funds a disabled child's future medical, financial and educational needs after your death.
Revocable Living Trust
A living trust takes effect during your lifetime. The most conventional and prudent way to establish a trust is with an estate-planning attorney who assists you in legally transferring property into the trust -- a process called "funding." During funding, you change the title of ownership for each asset placed in the trust from your name to the name of the trust. Only solely owned assets can be put in the trust; assets jointly owned or those with rights of survivorship cannot become part of the trust unless the joint ownership is terminated. As owner of the trust, you are its "creator," "grantor" or "settler," and the trust takes effect once it's funded.
Special Needs Planning for a Disabled Child
Naming a legal guardian and planning for a disabled child's future medical, financial and educational needs requires careful planning. Many parents don't realize that an inheritance may cause problems for a child's future. Under current federal law, any inheritance worth more than $2,000 disqualifies disabled individuals from most government assistance programs that they may depend on, such as Medicaid and Supplemental Security Income. A parent can arrange a special needs trust that puts money and property aside for the future care of a child with a disability, while protecting government benefits from discontinuation.
How Revocable Trusts Are Managed
Typically, a creator is the initial trustee responsible for the trust's management, which gives him 100 percent control over the trust property until death or disability, otherwise called qualifying events. A successor trustee, identified at the time the revocable trust was created, takes over the management of the trust at the qualifying event and has legal responsibility for administering the trust according to its directives, for the benefit of the beneficiaries.
Reasons for a Living Trust as Part of an Estate Plan
The creation of a living trust in advance of several special circumstances cannot be understated. A living trust created with the help of an estate-planning lawyer can be a great assistance if you need help managing your assets during a short- or long-term disability, you have children or grandchildren with special needs or you own property in multiple states.
Advantages of a Living Trust
A living trust does not have to go through probate for validation -- a long and costly process that can prevent beneficiaries from receiving their inheritance or dispurse your estate in a manner you did not intend. A revocable living trust goes into effect should disability or incapacitation occur. A qualified estate-planning attorney can properly review whether or not a living trust is the right planning tool for you.
Advantages of a Special Needs Trust
The benefit of setting up a special needs trust and naming a guardian includes twofold fiscal advantages: The trust guides the financial affairs of an individual incapable of managing money independently, and it is used to receive an inheritance (or settlement) that is not a countable asset against the maximum income requirements of SSI and Medicaid. Family members or an appointed trustee manage the trust assets for a disabled child or young adult. A qualified estate planning attorney can help with trustee selection and set up a structured settlement plan to ensure trust disbursements are made correctly. Some families elect to appoint a family member as the trustee, while others prefer a bank or trust company.
Photo Credits
Jupiterimages/liquidlibrary/Getty Images