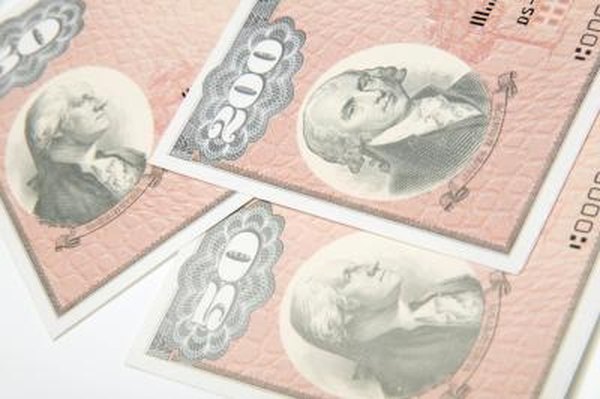 That $100 U.S. savings bond issued in 1975 is now worth a lot more than the $100 face value. The Treasury started issuing the current style Series EE savings bonds in 1980. The value of an older Series E bond can be found on the Treasury Department website. At this point, a 1975 Series E savings bond is no longer earning interest.
TreasuryDirect Website
The source for savings bond information is the U.S. Treasury's website at TreasuryDirect.gov. Find bond values using the resources in the Tools section of the website. The Treasury has stopped publishing printed value tables, but the website has archived copies that would cover a bond issued in 1975. An easier solution is to use the online savings bond calculator. Enter the issue month, face value and type of your savings bond and the calculator provides the current value.
Final Maturity
A $100 savings bond cost $75 in 1975 and earned interest towards the guaranteed face value. Once the $100 value was reached, the bond continued to earn interest until it reached final maturity. A savings bond reaches its final value 30 years after issue. So a savings bond issued in 1975 continued to earn interest until sometime in 2005 and has not earned interest since that date.
Approximate Value
Since the $100 savings bond from 1975 no longer earns interest, the current value has been the same since 2005 and can be determined using the savings bond value tables or the online calculator. For a $100 Series E bond issued in 1975, the current value is between $526 and $539, depending on the issue month. A bond issued in January will be at the low end of the value range, while bonds from December 1975 are worth the high value.
Redeeming the Bond
Since the 1975 savings bond is no longer earning interest, there is no reason not to redeem the bond. A listed owner can redeem the bond at any bank. If the listed owner is deceased, a named beneficiary can redeem the bond with proof of identification and a copy of the death certificate. With no named beneficiary, the administrator of the estate -- or a relative, if there is no estate administrator -- can redeem the bonds by filing the appropriate forms along with the bond to the U.S. Treasury. Forms are found Forms section of the Treasury website.
Photo Credits
Creatas/Creatas/Getty Images