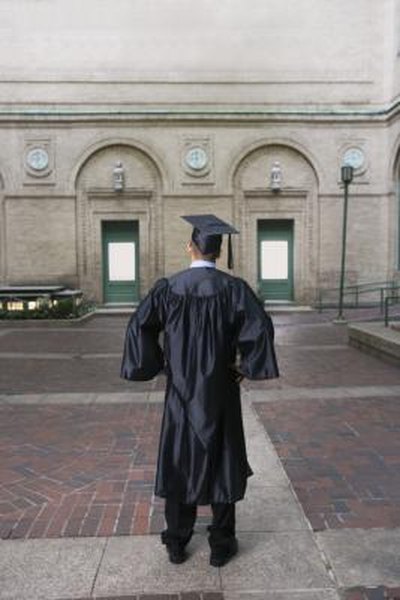 An Education IRA, also known as a Coverdell Education Savings Account or ESA, is a tax-advantaged college savings vehicle. Parents can make contributions to a Coverdell ESA on behalf of their children up to the age of 18. If your student decides not to go to college, withdrawals may be subject to regular income tax and a 10-percent penalty. Transferring Education IRA funds to another qualified beneficiary allows you to avoid additional tax liability.
Qualifying Beneficiaries
If you're considering transferring some or all of the money in your child's Coverdell ESA to someone else, that person must meet the IRS definition of a qualifying beneficiary. This means they must be a member of the beneficiary's family who is under age 30. This may include the beneficiary's child, siblings, nephews, nieces, aunts, uncles, first cousins or in-laws. You can contact the financial institution that manages the Education IRA to change the designated beneficiary. You'll need to provide the new beneficiary's name, date of birth and Social Security number to execute the change. There's no restriction on how often you can change the designated beneficiary.
Education IRA Rollovers
In addition to simply changing the beneficiary, you also have the option of transferring the money in an existing Education IRA to a new Coverdell Education Savings Account. To complete a rollover without incurring a tax penalty, you must take a distribution from the old account and use the money to fund the new account within 60 days. When you open the new account, you can select a new beneficiary, who must meet the eligibility requirements. The IRS allows you to execute one tax-free rollover of Education IRA money every 12 months.
529 Plan Rollover
As of 2012, you could only contribute up to $2,000 per year to a Coverdell ESA on behalf of a single beneficiary. With a 529 savings plan, the contribution limits tend to be much higher. If you want to be able to save more towards your child's education, you can also rollover an Education IRA into a 529 plan. You must complete the rollover within 60 days to avoid a tax penalty. With a 529 plan, you can name your child, grandchild, sibling, parent, spouse or even yourself as the designated beneficiary, with no age restriction.
Considerations
If you have to transfer Coverdell ESA funds as part of a divorce decree, the transfer is not taxable, even if a tax-free rollover or transfer occurred within the previous 12 months. Any unused money in a Coverdell ESA must be distributed when the beneficiary reaches age 30 to avoid a tax penalty. The IRS allows an exception for children with special needs. Contributions to an Education IRA are not tax-deductible. Your ability to contribute is determined by your adjusted gross income or AGI. At the time of publication, contributions were allowed for single filers with an adjusted gross income of less than $110,000 and joint filers with an AGI of less than $220,000.
Photo Credits
Creatas Images/Creatas/Getty Images