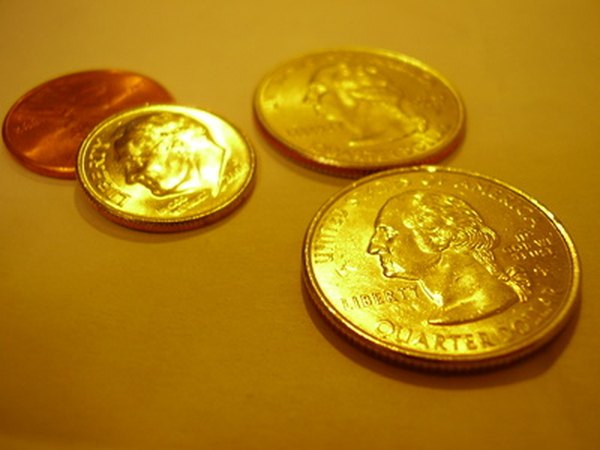 Maxi dresses, bell bottoms and David Bowie weren't all that was trending in the 1970s. Although the U.S. Tax Code does not sound nearly as inspiring as the music and fashion of that time, the Employee Retirement Income Security Act enacted in 1974 introduced exciting changes to protect retirement funds. It also created the IRA, or individual retirement arrangement. Subsequent amendments have allowed you to hold gold bullion in it.
About Gold Bullion
Gold bullion comes in bars and coins, both valued by the ounce. The standard U.S. gold bullion bar weighs 400 ounces. Gold bullion coins are made in 1 ounce, 1/2 ounce, 1/4 ounce and 1/10 ounce. Even though its weight remains the same, the gold bullion's face value fluctuates, because the investment market determines the price of 1 ounce of gold from day to day.
Permitted Retirement Investment
According to IRS Publication 509, your IRA may invest in 1 ounce, 1/2 ounce, 1/4 ounce and 1/10 ounce gold coins and in gold bullion. The precious metal you hold in your retirement account must be processed by the U.S. Mint, a bureau of the U.S. Department of the Treasury, which guarantees the amount of gold in the product you buy.
Maximum Annual Investment
The U.S. Tax Code is a set of laws sanctioned by Congress that can change from year to year. The regulations that applied to your retirement fund last year do not necessarily apply today. Consult the IRA rules published by the IRS annually to find out the maximum you can deposit in your individual retirement account in a given tax period. In 2012, for example, the contribution limit was set at $5,000, and at $6,000 for individuals 50 years of age and older. This limit is for all the precious metal you buy for your IRA combined with any other types of deposit.
Considerations
In an online article Michael B. Clark wrote as a consultant to Gold and Silver Investments Limited, he says that investing in gold is advantageous because it has traditionally risen in value whenever stocks and bonds have headed the other way. In addition, the value of stocks is dependent upon a company's performance. A stock may lose all its value if the business completely fails. On the contrary, as a precious metal, gold holds its own worth and while its price per ounce fluctuates, it is unlikely to drop to nothing. But note that you cannot keep the actual metal in your possession. Doing so constitutes an early withdrawal of your retirement savings and you'll be charged taxes and penalties. The company with which you open your IRA acts as your custodian and it holds the gold bullion in your name.