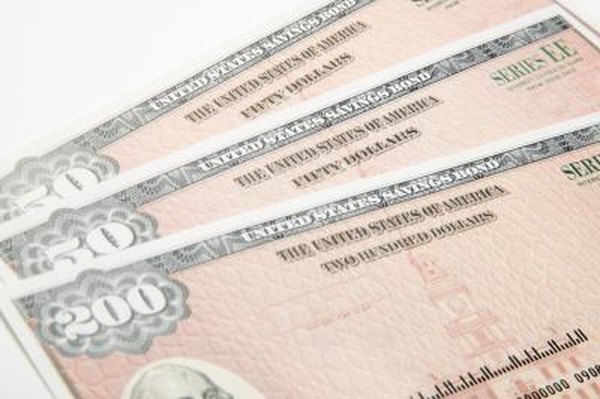 One benefit of saving with U.S.series EE savings bonds is the ability to list a beneficiary on a bond to simplify the transfer of the bond if the listed owner dies. To have the beneficiary changed, the bond must be reissued by the U.S. Treasury with the new beneficiary's name. The Treasury uses a single form for all reissue request reasons.
Reissue Request Form
You need Treasury form PDF 4000, Request to Reissue United States Savings Bonds to change the beneficiary on your EE savings bonds. The form can be ordered or downloaded from the TreasuryDirect.gov website. Look for the Forms tab on the top of any page of the website and select "Savings Bond Forms" from the side menu. Click the PDF link next to form PDF 4000 to download or complete the address information at the bottom of the webpage to get the form by mail.
Completing the Form
The form 4000 can be filled out on your computer before printing. The directions are on the last three pages of the six-page form. Once completed, you must take the form to a bank to have the owner signature verified. The form must be signed in the presence of a bank officer, so do not sign the form in advance. If you have more than three EE savings bonds to change, the Treasury's form PDF 3500 allows you to list additional bonds.
Mail in Bonds
Mail both the completed form 4000 and the EE savings bonds for the beneficiary change to the address listed on the instructions for the form 4000. Make a copy of the bonds and form for your records before dropping them in the mail. The Treasury estimates it will take eight to 10 weeks to issue new bonds after the forms are received.
Listed Owner Considerations
A series EE savings bonds can list up to two names. The names can either be two co-owners or an owner and a beneficiary. A co-owner of a savings bonds has the same rights as the primary owner, including the ability to redeem a bond without the other owner's signature. A beneficiary has no rights concerning a savings bond until the primary owner passes away.
Photo Credits
Creatas/Creatas/Getty Images