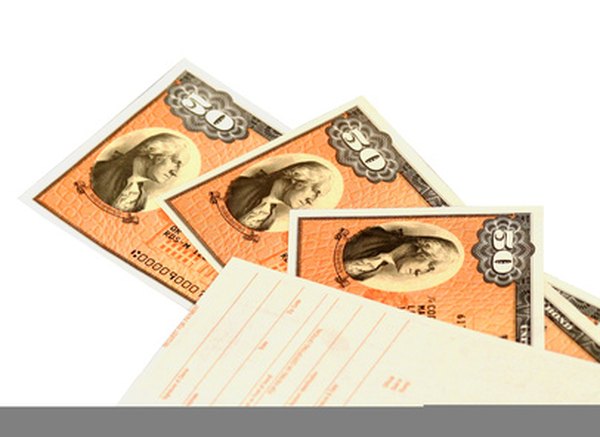 When you own a savings bond, it shows your name as the owner on the face of the bond. If your name changes and the name on the bond is no longer current, you may need to have it reissued. The federal government requires a bond reissue if you change your name with court involvement – in a divorce, for example. You also should consider a reissue if a misspelling in the name could prevent you from cashing the bond. If your name changes due to marriage or the name has a minor typo, you don't need to reissue the bond.
Step

1
Visit the Treasury Direct website and download Form PD F 4000 E – Request to Reissue United States Savings Bonds.
Step

2
Complete the form either by printing it out and filling it in by hand or by filling it in with your computer and then printing the completed form. Complete the fields for "issue date," "face amount," "bond number" and the Social Security number registered with the savings bond. Enter the name as you want it to appear on the face of the bond in Section 3 of the form. Enter the delivery address for the bond in Section 4. Provide a reason for the bond reissue in Part B of the form. Do not sign the form yet.
Step

3
Visit a financial institution – your own institution where you have an account, if possible. Bring the savings bond, court papers that support the name change and photo identification that shows your current name. Explain the process you're trying to complete and ask to have an authorized certifying officer witness your signature on Form 4000 E.
Step

4
Sign the form "'your current legal name', changed by (event that occurred) from 'your name as it appears on bond'" in the presence of the certifying officer.
Step

5
Verify that the certifying officer affixes an official stamp or seal to the form and completes the fields on Page 3.
Step

6
Mail the form and the bond to the specific address listed on the form.
Tip
After filling in the form fields on your computer, you won't be able to save the completed form on your hard drive, according to the Treasury Direct. The only way to save the completed form is to print it.
Warning
These instructions refer to changing a name on a U.S. savings bond, not changing the actual ownership of the bond, as might be necessary upon the death of an owner.