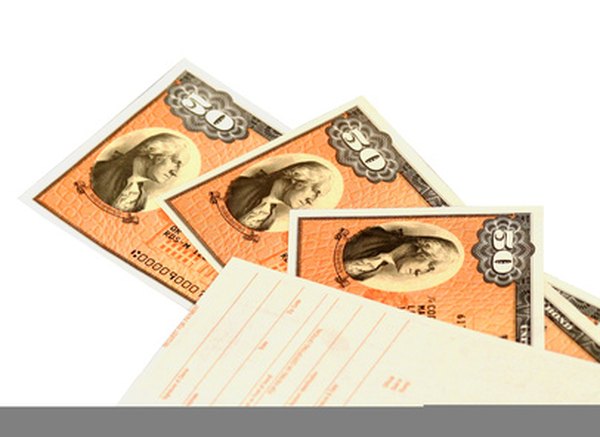 When you're looking for a low-risk investment, consider a U.S. savings bond. While you hold the bonds, they accrue interest at competitive rates. The Treasury Department places minimum requirements for how long you must hold savings bonds before redeeming them. You can also check the balance on a Treasury savings bond to see how it's performing and to make plans for redeeming it for cash.
Paper Bonds
Step

1
Visit the Treasury Direct website to use the savings bond calculator.
Step

2
Enter the date you want to use for calculating the value in the "Value as of" field. Enter the type of bond in the "Series" field by clicking the arrow to enable selection from the dropdown menu. Enter the denomination by selecting it from the dropdown menu. Enter the bond serial number and the issue date in the appropriate fields.
Step

3
Click the blue "Calculate" button to see the results of the calculation. Change the "value as of" date if you want to see how the value changes if you hold the bond for a longer period.
Electronic or Paper Bonds
Step

1
Visit the Treasury Direct website to download the "savings bond wizard." After downloading the program to your hard drive, double-click the executable file to install the program.
Step

2
Open the program and enter the date you wish to use for pricing. Enter the bond series, the denomination, any deferred interest, the serial number and the issue date along the top of the window.
Step

3
View the pricing, interest and value results after you finish entering the information for the bonds.
Step

4
Save the information by clicking "File" and "Save" or "Save as" from the dropdown menu.
Tip
The savings bond wizard can provide prices for bonds with redemption dates between January 1996 and November 2012, according to information provided in the program.

The Treasury Department requires a 12-month holding period for savings bonds issued February 1, 2003, and after. Savings bonds issued before this date have a minimum holding period of six months, according to Treasury Direct.