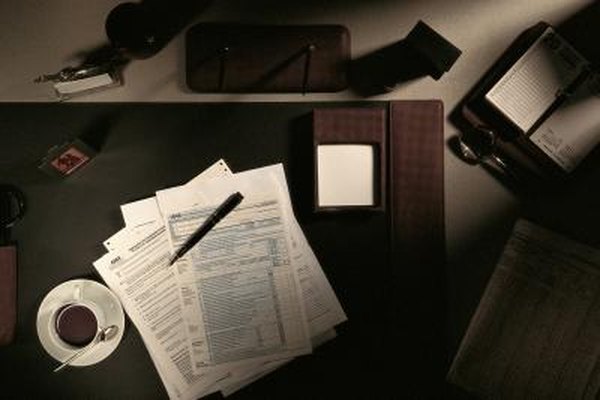 When there is a death in your family, the effects don't end with the funeral. After a loved one dies, the personal representative must settle the decedent's financial affairs, including administering the estate and preparing the final income tax return. If both of your parents died during the same year, knowing how to handle their last tax return can reduce your stress at a difficult time.
Who Files the Return?
Because both of your parents died during the same tax year, their designated personal representative must sign the return. This person can be appointed by the decedents or by the court. If no representative was appointed, the person in charge of the decedents' property is responsible for filing the tax return.
Estate Return or Individual Return?
For income your parents received during the year of death, you must file an individual tax return for them. If their gross estate exceeds the basic exclusion amount, which is $5.25 million as of 2013, the Internal Revenue Service also requires the personal representative to file an estate return. Form 706, or the United States Estate (and Generation-Skipping Transfer) Tax Return, is a lengthy form that focuses on every aspect of a decedent's assets. If you are required to complete Form 706, you might want to seek the assistance of a tax professional.
Individual Tax Return
When filing an individual tax return for your deceased parents, prepare the return as your parents would, with a few adjustments. Write the word "Deceased" after each parent's last name on the tax form. Write the date of death across the top of the form. If your parents died on different dates, write both dates on the top of the form and write each parent's first name in parentheses after the date. Sign your name to the bottom of the return and write "Personal Representative" after your name. If your parents are due a refund, you will need to file Form 1310 with the return, which releases the refund to the personal representative, if your status as personal representative was not certified by a court.
Special Circumstances
If your parents' estate continues to earn money after death or one of the beneficiaries is a citizen of another country, you might have to file Form 1041. As of 2013, you must file Form 1041 if the estate earns more than $600 in any tax year. If your parents died as result of a terrorist attack or in the line of duty as an astronaut or a member of the military, the IRS will not tax earnings or income, but you still must file a return. You will have to provide the location of their death, a copy of the death certificate and a letter from the appropriate U.S. agency verifying the circumstances under which your parents died. For more information, refer to IRS Publication 559.
Photo Credits
Comstock/Comstock/Getty Images