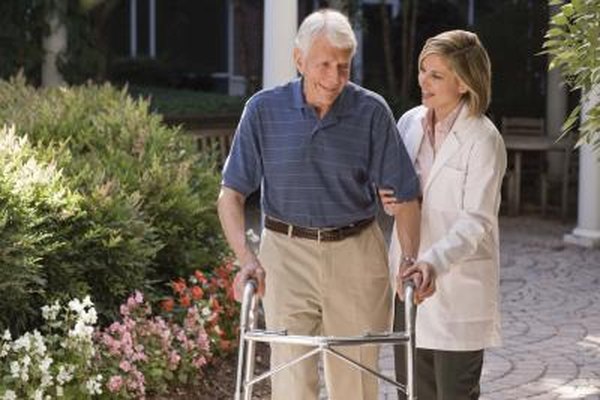 The federal health insurance program for Social Security recipients is called Medicare. In traditional Medicare, the government manages your benefits, but you can instead choose a Medicare Advantage plan if you want an insurance company to manage them. Basic Medicare includes Part A for hospital insurance and Part B for medical coverage.
Qualifying
Seniors 65 or older are eligible for Medicare Parts A and B if they qualify to receive Social Security. A senior qualifies by working at least 10 years while paying payroll tax or by marriage to a person who qualifies. Some disabled people also can get coverage. People who do not qualify through a work record or disability can buy into Medicare Parts A and B by paying premiums. If Social Security does not automatically enroll you, you can sign up on the Medicare website.
Part A
Part A Medicare covers hospital expenses, skilled nursing care, limited home health care and hospice care. It only covers treatments, tests and services that are medically necessary and excludes custodial care at home. Some coverage is mandated by law, but not all services are covered for every illness or setting. Medicare recommends asking your health care provider whether Medicare normally covers a particular procedure. A Medicare Advantage plan must by law cover at least as much as original Medicare.
Part B
Anyone who has Part A coverage normally can purchase Part B, which covers preventive medicine, outpatient care, supplies and some physicians' services. Examples of expenses covered under Part B include medically necessary doctor visits, ambulance services, wheelchairs and preventive health-care services, such as flu shots. Medicare recommends making sure services or medical supplies are medically necessary and asking your health care provider whether Medicare covers them.
Not Covered
Traditional Medicare doesn't cover long-term care, hearing aids, routine foot care, cosmetic procedures, routine dental care, dentures or routine eye care. You can add prescription coverage to basic Medicare by purchasing Part D. Some people also buy private Medigap policies to cover co-payments and reduce out-of-pocket expenses. Medicare Advantage Plans vary, but many cover additional expenses beyond regular Medicare, including prescription drugs.
Costs
People who qualify for Medicare through their own work or a spouse's work receive Part A for free. Those who buy into the system pay $441 per month for Part A as of 2013. In traditional Medicare, Part B costs most individuals $104.90 per month as of 2013, but high-income people pay more. With traditional Medicare, you often pay a deductible or co-payment even for insured services, but you can reduce your costs by choosing providers that accept Medicare's allowed charges. The costs for Medicare Advantage coverage vary with the plan.
Photo Credits
Jupiterimages/Comstock/Getty Images