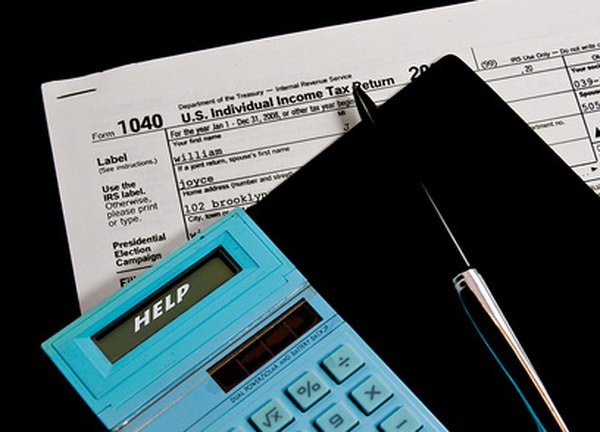 The Internal Revenue Service offers different versions of the Form 1040 personal income tax return to meet different taxpayer situations. There are rules for determining which form to use in your personal tax situation. The Form 1040EZ is the simplest federal tax form, but you must meet qualifications to use it. The Form 1040 is a more complex tax return form because it must fit any situation.
1040EZ Filing Rules
You can take advantage of the simplicity of Form 1040EZ if you are filing as single or married filing jointly. You, and your spouse if married, must be under age 65 and not blind at the end of the tax year. Your taxable income must be under $100,000 and you can't claim any dependents. You can't claim any adjustments to income such as retirement plan contributions, and you can't claim any tax credits other than the earned income credit.
Limited Income Types
To use the 1040EZ, all your earned income must come from wages, salaries and tips. Unearned income can only come from unemployment compensation, taxable scholarship and fellowship grants and Alaska Permanent Fund dividends. Taxable interest must be less than $1,500. You can't owe employment taxes on wages you paid to a household employee and you can't be a debtor in a Chapter 11 bankruptcy case. You must use the IRS tax tables to figure your tax.
Use Form 1040
If you don't meet the conditions for using the simple Form 1040EZ, you can file your taxes on Form 1040. You use this complex form to report or claim any and all types of income, adjustments, deductions and credits. For instance, you use this form to claim tax credits and deductions such as the child tax credit, child and dependent care credit, or the deduction for retirement plan contributions. You must use Form 1040 if your taxable income exceeds $100,000 but you may use it for lesser incomes, too.
Itemize on 1040
You must use Form 1040 if you itemize deductions on Schedule A or if you have to file any other forms or schedules with your tax return to report income, deductions, exclusions, transactions or tax payments. You also must use this form to report tips you didn't report to your employer or where your employer failed to withhold Social Security and Medicare taxes from your wages and tips. You use Form 1040 if you are a debtor in a bankruptcy, have taxable income from foreign sources or are a resident of Puerto Rico with tax-exempt income from sources there. In short, if you have any tax or income situation that doesn't fit the rules for using other 1040 versions, you must file the regular Form 1040.