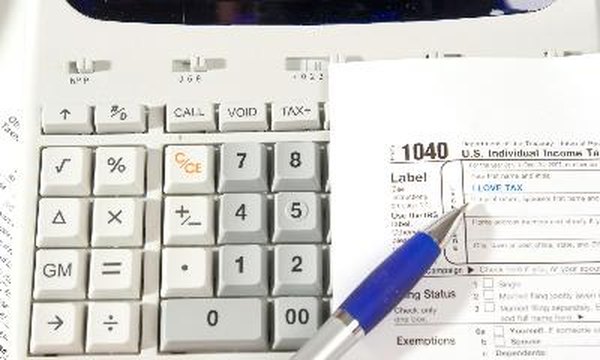 The Internal Revenue Service requires taxpayers to file federal tax forms each year. You are expected to include all income sources on your federal tax return, but sometimes you might forget to include the income from one of the 1099s you receive, or you might get a 1099 in the mail after you already filed. In either case, if you didn't account for the income the first time around, you must file an amended return using From 1040X.
Step

1
Begin to fill out your Form 1040X by checking off the calendar year of the tax return you are correcting. Type in your personal information and your filing status, even if these were correct in the original tax return.
Step

2
Use your previously filed tax form to fill out the amounts you intend to change in column A on the 1040X form. For example, if your adjusted gross income has changed because of your 1099, put the old, incorrect amount of your adjusted gross income on line 1, column A. Put the amount by which it's changed in column B. For example, if the 1099 added $2,000 to your AGI, you enter $2,000 in column B. Finally, you put the corrected information -- in this case, your old AGI plus $2,000 -- in column C.
Step

3
Explain why you're filing a 1040X in Part III. For example, you might simply write, "I received another 1099 after filing my tax return."
Step

4
Sign and date the form.
Step

5
Complete and submit any corrected schedules, if necessary. For example, if your 1099 reflected additional self-employment income, you would likely need to submit an updated and corrected Schedule C.
Step

6
Submit payment with your 1040X form, if you owe money. You must pay what you owe as soon as possible to avoid interest and penalty fees.
Step

7
Mail the form to the address specified in the instructions. You can't e-file form 1040X.
Items you will need
Form 1040X
Original tax return
Form 1099
Tip
Print and extra copy of the completed 1040X form or save a copy for your tax records.

Contact the IRS at 1-800-829-1040 to check the status of your amended return. It could take 8 to 12 weeks to process your amended return.
Warning
IRS Form 1040X can only be used to amend tax returns within three years of the original filing date.
Photo Credits
tax love image by TEMISTOCLE LUCARELLI from Fotolia.com