I Applied Two Weeks Ago for Social Security Benefits: When Do I Get Paid?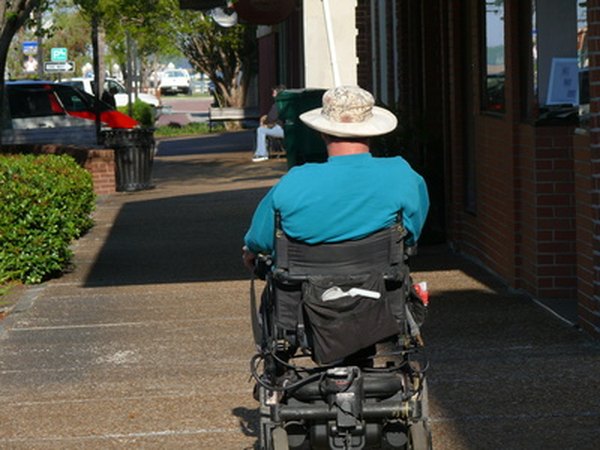 Although your disability may be visible, you still have to go through the benefits determination process that the Social Security Administration has in place. After you submit your application and supporting documentation, the agency's Disability Determination Services may take up to six months to make a decision. However, you may be eligible for expedited payments if your claim is for Supplemental Security Income.
SSDI vs. SSI
The Social Security Administration offers Social Security Disability Insurance, or SSDI, and Supplemental Security Income, SSI, as financial benefits to those unable to support themselves because of a disability. SSDI covers individuals who have worked and paid Social Security taxes. Their monthly benefit is based on the income they earned and they become eligible for Medicare health benefits two years after being approved for SSDI. Both children and adults with disabilities who do not earn anything or enough to support themselves may qualify for SSI payments. Other criteria the Social Security Administration considers when reviewing SSI applications are nationality and country of residence. SSI recipients may also qualify for state health benefits, including Medicaid, depending on where they live. SSI payments are based on an individual's needs and go up when the Consumer Price Index rises. However, the federal government caps the maximum an SSI recipient may receive. In 2012, the highest monthly payment is $698.
Expedited SSI Eligibility
If your application is for Supplemental Security Income, you may qualify for presumptive disability or presumptive blindness disability payments for six months while the Disability Determination Services processes your claim. The DDS considers a number of severe medical conditions, including allegations that they are present, when determining whether you qualify for presumptive payments. They include, but are not limited to, leg amputations at the hip, complete blindness or deafness, health-related bed confinement, very low birth weight, HIV infection with symptoms and a medically confirmed life expectancy of six months or less.
Emergency Advance Payment
If at the time you get approval to receive presumptive disability or blindness payments you do not have money for food, health care, housing or clothes, you may be eligible for an immediate emergency advance payment of up to $999. When you start receiving monthly presumptive disability income, the Social Security Administration deducts the advance emergency money from it, divided by up to six installments.
Denied SSI and Presumptive Payments
Being awarded presumptive disability or blindness benefits is not an indication that your SSI claim will be approved. The Social Security Administration does not demand repayment of any benefits it approved for you while you waited for your application to be processed if your claim is denied.
References
Writer Bio
Emma Watkins writes on finance, fitness and gardening. Her articles and essays have appeared in "Writer's Digest," "The Writer," "From House to Home," "Big Apple Parent" and other online and print venues. Watkins holds a Master of Arts in psychology.