Will Burial Insurance Pay for a Green Funeral?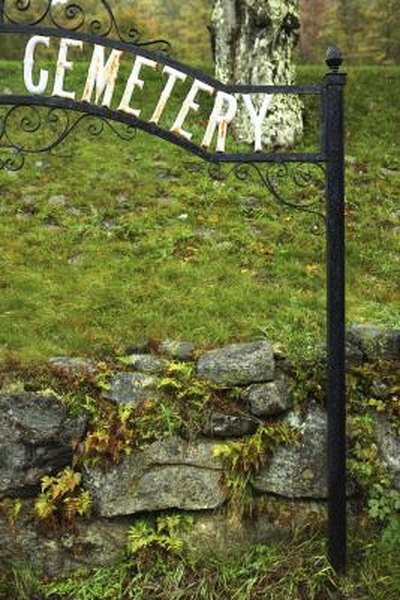 Green funerals offer financial and ecological advantages over traditional funerals. Both end-of-life rituals share service features such as eulogies, attending clergy, readings and pallbearers; however, their different approaches to body preparation and burial make green funerals less expensive and more environmentally friendly. Also known as natural burials, or green burials, green funerals cost one-third less on average than traditional funerals because they forgo formaldehyde embalming and incorporate biodegradable coffins and clothing. You can choose to use the proceeds from your burial insurance policy to have a green funeral; this type of insurance has no designated-use restrictions.
End-of-Life Insurance
Burial insurance, or funeral insurance, differs from life insurance. First, burial insurance policies pay a smaller amount than a typical life insurance policy, ideal for this targeted expense. Most burial insurance policies are whole life policies that don't require a medical exam and allow you to borrow against their cash value. According to the Insurance.com website, these guaranteed-acceptance insurance options may charge higher premiums than a standard life insurance policy and may limit payout should death occur within a couple of years of purchase. Pre-need insurance, available from funeral homes, functions like burial insurance but pays the proceeds either to the funeral home or a designated individual, depending on state law.
Final Price Tag
Burial insurance may be a feasible option to provide money for your end-of-life expenses, depending on your health and age. According to the National Funeral Directors Association, a traditional funeral with a metal casket averaged $8,343 in 2012, excluding the cemetery plot. An equivalent green funeral with a $1,000 rattan casket would cost $4,955. A less expensive cardboard casket imprinted with soy-ink simulated wood grain lowers the green-funeral price tag another $600. Cemetery plots for both burial types vary by location and grounds maintenance provisions. However, according to the SevenPonds.com website, green burials can cost more than traditional interments due to site conservation fees.
Shunning Traditional to Go Green
A green funeral lowers the amount of insurance you need because it eliminates grave vaults, embalming and metal caskets that raise the cost of a traditional funeral by more than $4,000. Each year, conventional interments in the U.S. put enough metal and concrete into the ground to pave a highway from Detroit to New York and build the equivalent of the Golden Gate Bridge, according to statistics from the Green Burial Council published by the University of North Carolina at Charlotte Urban Institute. Formaldehyde, a known carcinogen used to preserve corpses, can leach into the soil when the ground shifts and vaults crack. Green funerals provide a more natural alternative that supports biodegradation and avoids adding toxins to the environment. Green cemeteries disallow vaults and use shallower graves -- 3 1/2 feet deep -- to speed natural decomposition. The most natural green burial preserves the shroud-wrapped body for viewing using refrigeration, not embalming, and uses green coffins, or e-coffins, made from recycled cardboard, woven willow or bamboo.
Green Cemetery Options
Not all cemeteries embrace the green burial concept: Many insist on burial vaults to prevent the ground from sinking and for easier ground maintenance. According to New Hampshire Funeral Resources, 31 states had one or more green cemeteries in 2013. Those interested in a green funeral can look for a Green Burial Council-certified cemetery. The council has four levels of certification. The "hybrid burial grounds" designation indicates the cemetery handles traditional burials but does accept green casket interments without embalming and vaults. To earn the "low-impact burial ground" certification, a cemetery must prohibit the use of embalming and vaults as well as incorporate a pesticide-reduction program into its grounds maintenance practices. "Natural burial grounds" certification applies to a low-impact burial ground with native plants at the core of its landscaping design and upkeep. When a cemetery meets the requirements for the "natural burial ground" certification and has legally arranged for the land to be a protected nature preserve, it can be designated a "conservation burial ground."
Green Cautions
Green funerals interest those who prefer to conserve natural resources are attracted to the concept of using their death to become part of nature. Although more people opt to express their concern for the environment with a green burial choice, the death care industry continues to adjust to the growing popularity of nontraditional burials. The FuneralSpot website stresses the importance of educating yourself about green funerals so you can explain your intentions to your family. For instance, you should learn what your grave-marker options are -- a tree, flat rock or plant, for instance -- as traditional headstones are rarely used. After researching the topic, you need to find a funeral director who understands green funerals and respects your wishes.
References
Resources
Writer Bio
Trudy Brunot began writing in 1992. Her work has appeared in "Quarterly," "Pennsylvania Health & You," "Constructor" and the "Tribune-Review" newspaper. Her domestic and international experience includes human resources, advertising, marketing, product and retail management positions. She holds a master's degree in international business administration from the University of South Carolina.