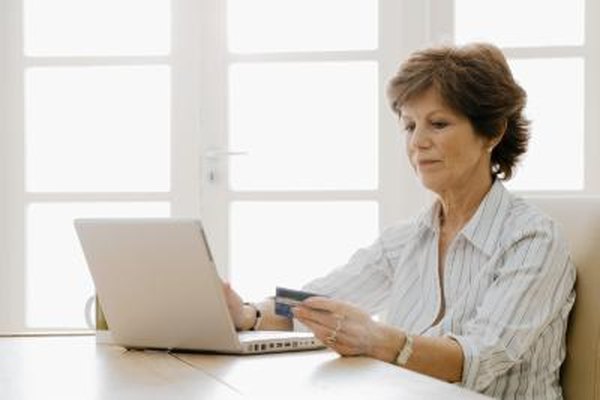 U.S. savings bonds are a low-risk investment option that are issued by the United States Treasury. In the past, savings bonds could be purchased as paper certificates from local banks and were often given as gifts for birthdays, holidays and other special occasions. While it is still possible to buy savings bonds as gifts, they are typically purchased digitally through the Treasury's TreasuryDirect website. To purchase and send savings bonds through TreasuryDirect, both you and the gift recipient need to have TreasuryDirect accounts.
Step

1
Navigate to the TreasuryDirect.gov website and log in to your TreasuryDirect account. If you don't have an account, click the "TreasuryDirect" option under the "Open an Account" heading on the left side of the screen and follow the on-screen prompts to provide the identifying and financial information necessary to create a new TreasuryDirect account. Information required for a new account includes your name, address, Social Security number and a checking or savings account number to act as a funding source.
Step

2
Click the "Buy Direct" button in the toolbar at the top of the screen. Do not use the Purchase Express buying option located on your home screen as it cannot be used for gift bond purchases.
Step

3
Select the type of savings bond you would like to purchase as a gift. You can choose either Series EE, which features a fixed interest rate, or Series I, which features a combined interest and inflation rate. Either type can be gifted once purchased. Click "Submit" once you've selected the bond type.
Step

4
Click "Add New Registration" to create a new bond holder option for your account. Select the "Sole Owner" option, then enter the name and Social Security number of the individual you want to buy bonds for. Check the box beside the "This Is a Gift" option, and click "Submit" to return to the purchase screen.
Step

5
Choose the name of the registrant you entered from the drop-down menu in the "Registration Information" section, then enter a purchase amount and choose a funding source. You can also select whether this is a one-time gift or schedule additional purchases at later dates. Click "Submit" once you have finished scheduling your purchase or purchases.
Step

6
Review the details of your purchase and click "Submit" if they are correct to authorize the purchase. Click "Edit" if any details are incorrect and need to be changed.
Step

7
Click the "Gift Box" button in the TreasuryDirect toolbar to view the bonds you have purchased as gifts. It may take up to one business day for purchased bonds to appear in your Gift Box.
Step

8
Click the box next to the gift you wish to deliver and click "Select" to view the details of the bond. Click "Deliver" to open the Delivery Request page.
Step

9
Enter the TreasuryDirect account number of the individual you are sending the bond to, then click "Submit" to review the gift before sending. If all information is correct, click "Submit" to send the bond.
Items you will need
TreasuryDirect login credentials
Social Security number of gift recipient
TreasuryDirect account number of gift recipient
Tips
You can print certificates to let gift recipients know that you've purchased them a savings bond by navigating to the "Gift Certificates" page on the TreasuryDirect website. Certificates are available for anniversaries, birthdays, graduations and other events.
Warnings
All bonds purchased through TreasuryDirect are electronic bonds; no paper bonds will be issued for your gift purchase. As of Jan. 1, 2012, paper bonds can also no longer be purchased from financial institutions for yourself or as gifts.

If you wish to purchase paper bonds as gifts, you can still do so by filing Internal Revenue Service Form 8888 with your tax returns and using a portion of your tax refund to purchase up to $5,000 of paper Series I savings bonds.
Photo Credits
Jupiterimages/Pixland/Getty Images