How to Buy US Savings Bonds as Gifts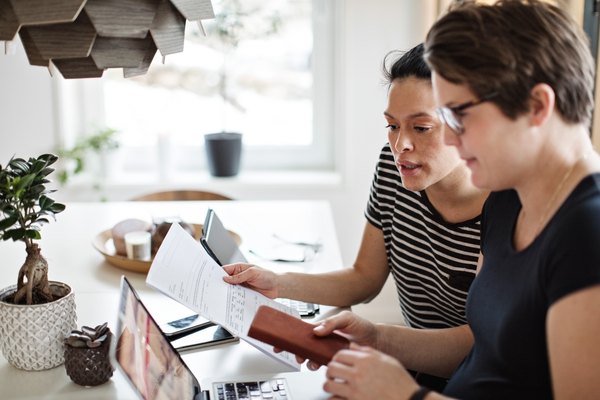 You may think of U.S. savings bonds as obsolete gifts, but they're still alive and well. They may not resemble the bonds that were commonly gifted by grandparents back in the day before computers and cell phones ushered in the wave of electronic purchasing, but today's savings bonds have undergone a transformation to keep pace with today's digital age. You can now buy U.S. savings bonds from the comfort of your home, the cozy surroundings of your favorite coffee shop or anywhere else that you have an internet connection.
How U.S. Savings Bonds Work
When you purchase a U.S. savings bond, you become an investor as well as a lender. You're lending money to the U.S. government, in the form of bonds issued as securities, for a return on your principal investment plus interest over time. And your investment has another perk – it's backed by the full faith and credit of the U.S. government – so you're not entering into a high-risk investment.
What you pay for a savings bond is its face value, but it can continue to accrue interest for up to 30 years. After you've held a savings bond for at least 12 months, you can redeem it for its face value and the interest it's earned. But if you redeem your bond before you've held it for five years, you won't receive the last three months' interest.
Two Types of Savings Bonds
You can purchase two types of U.S. savings bonds – Series EE bonds and Series I bonds. Both pay interest, but EE bonds that were issued on or after May 1, 2005, pay a fixed interest rate, and I bonds pay interest that's based partly on a fixed rate and partly on a semiannual inflation rate. EE bonds offer the guarantee that they will double in face value within 20 years from their issue date.
Series EE Bonds
Series EE bonds are the replacement for the older E bond, commonly known as one of the World War II war bonds. Interest rates on EE bonds are determined by the bond trading market and paid at the rate of 90 percent of the prior six months' average 5-year Treasury securities yield.
Series I Bonds
The "I" in Series I bonds refers to their expanded name – Inflation-Indexed Bonds. This bond allows for inflation over time to give bondholders an inflation-adjusted return on their investment. Other characteristics of I bonds include their exemption from state and local taxes, a federal tax-deferred exemption that allows bondholders to defer paying income tax until they cash their bonds.
I bondholders have the same three-month interest penalty if they cash in their bonds before five years. You can buy I bonds in face value denominations of $50, $75, $100, $200, $500, $1,000, $5,000 and $10,000.
Savings Bond Interest Rates
Interest rates on U.S. savings bonds are adjusted twice each year – in May and November – and they're calculated by using current market rates or inflation. Find rates by visiting the U.S. savings bonds website at TreasuryDirect.gov, search for "savings bonds rates," and follow the prompts.
Purchasing Savings Bonds
Gone are the days when you could purchase paper U.S. savings bonds at your bank. In today's digital age, electronic sales account for the majority of purchases. One exception is purchasing a Series I bond with your tax refund, which results in the U.S. Treasury's sending you a paper savings bond.
Creating an Online Account
Before you can buy a U.S. savings bond for yourself or for a gift to others, you'll first have to create an online account at TreasuryDirect.gov. Click "Open an Account," and then click "TreasuryDirect" under "Choose an Application." Follow the three steps to create your account, which include providing personal identifying information such as your Social Security number, email address and bank routing and account numbers.
To secure your account, you'll also be prompted to choose a password, a personalized image and security questions. The website's instructions note that this secure application process should take only 10 minutes.
Buying Savings Bonds Online
After you've created your account at TreasuryDirect.gov, you'll be able to purchase U.S. savings bonds online with a few points and clicks simply by following the instructions. From your computer, you'll be able to manage your account and redeem your savings bonds as well as make purchases.
Buying Bonds Through Payroll Deductions
You may be able to purchase U.S. savings bonds Series EE and I through a payroll deduction plan. Check with your employer to see if he offers this option. You'll have to fill out paperwork, which may be in digital form, with your employer to authorize the deductions and designate the amount you want to be deducted.
Buying Bonds With Tax Refund
If you receive an income tax refund, you can purchase Series I savings bonds with all or part of your refund, as long as the amount is divisible by $50. If you hire a tax preparer, simply let her know that you want to use your refund to buy savings bonds. If you prepare your own tax return by using tax software, the program will give you this option. If you file a paper tax return, attach IRS Form 8888 (Allocation of Refund [Including Bond Purchases]) to your return.
Buying Bonds as a Gift
Once you've created your online account at TreasuryDirect.gov, and you've learned the mechanics of purchasing U.S. savings bonds, it's a simple process to buy bonds as a gift for someone else. The recipient of your gift will also have to have an account at TreasuryDirect.gov so that you can transfer savings bonds between the two accounts.
Follow these steps to purchase savings bonds as a gift:
After you've logged into your account, choose the BuyDirect option.
Choose which savings bond series – EE or I – you want to purchase and click "Submit."
From the "Purchase" page, choose the recipient's registration. If you have not created a registration for the gift recipient you want, click "Add New Registration" and follow the prompts to enter information such as the recipient's name and SSN. Follow the prompts to finish the registration and choose "This is a Gift" before clicking "Submit" to store the information.
After you click "Submit," you'll be directed back to the "Purchase" page, where you'll designate the amount of the gift and your source of funds.
Continue to follow the prompts to review the details of your purchase as well as the terms and conditions of your purchase.
Your Account's Gift Box Section
As soon as you purchase savings bonds as gifts, they are not immediately transferred to your recipient. Your purchases are actually transferred to the "Gift Box" section of your TreasuryDirect account within one business day of your purchase. But you'll still have to wait for five business days before you can deliver your gift. At that point, if your gift recipient has not yet set up her own TreasuryDirect account, you can still go ahead and purchase savings bonds and hold them in your account for transferring to your recipient later.
Savings Bond Gift Certificates
You can print a gift certificate from your TreasuryDirect account to your recipient. Visit TreasuryDirect.gov/indiv/planning/plan_gifts_certificates.htm, where you'll be able to choose from numerous certificate formats. You'll also be able to personalize the gift certificate before you print it.
References
Resources
Tips
You can print certificates to let gift recipients know that you've purchased them a savings bond by navigating to the "Gift Certificates" page on the TreasuryDirect website. Certificates are available for anniversaries, birthdays, graduations and other events.
Warnings
All bonds purchased through TreasuryDirect are electronic bonds; no paper bonds will be issued for your gift purchase. As of Jan. 1, 2012, paper bonds can also no longer be purchased from financial institutions for yourself or as gifts.
If you wish to purchase paper bonds as gifts, you can still do so by filing Internal Revenue Service Form 8888 with your tax returns and using a portion of your tax refund to purchase up to $5,000 of paper Series I savings bonds.
Writer Bio
Victoria Lee Blackstone was formerly with Freddie Mac's mortgage acquisition department, where she funded multi-million-dollar loan pools for primary lending institutions, worked on a mortgage fraud task force and wrote the convertible ARM section of the company's policies and procedures manual. Currently, Blackstone is a professional writer with expertise in the fields of mortgage, finance, budgeting and tax. She is the author of more than 2,000 published works for newspapers, magazines, online publications and individual clients.