Can Someone Collect Survivors Benefits From Their Grandparents?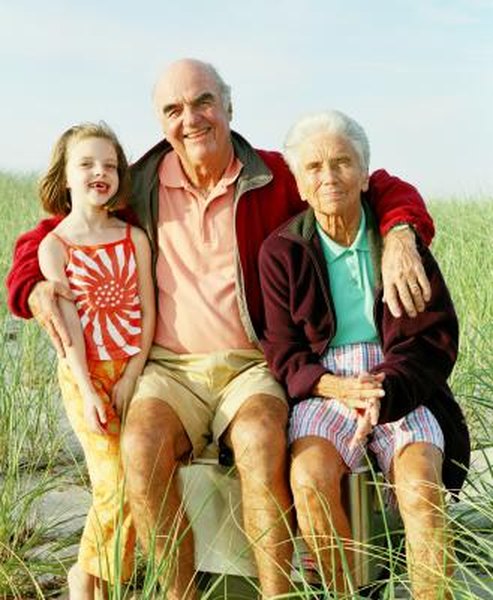 If you are eligible for Social Security retirement or disability benefits, Social Security will pay a monthly benefit to your "survivors" in case of your death. Survivor's benefits represent valuable protection for members of your family, but are limited to your spouse and your children. Social Security makes some exceptions to this rule for grandchildren.
Eligibility
For Social Security to pay survivors benefits to your family, you must be eligible for Social Security retirement benefits. That means collecting at least 40 work credits, which you earn by paying Social Security taxes on a specified amount of money -- $1,160 per credit in 2013. You can earn a maximum of four credits every year. The agency makes one exception -- if you have worked at least a year and a half in the last three years before your death, survivors benefits are payable on your record. Social Security will also pay survivors benefits if you are disabled, according to their rules.
Grandchild's Survivor Benefits
In general, only your spouse, children or dependent parents may receive survivors benefits on your Social Security record. But your grandchildren are also eligible if their natural or adoptive parents are dead or disabled at the time you were entitled to retirement or disability benefits, or if the grandchildren are adopted by your surviving spouse. There is no eligibility if the parents are living in your household and supporting the children at the time of your death.
Age Limit and Support
In order to be eligible for survivors benefits, grandchildren must have lived with the grandparent before the age of 18. In addition, the grandparent must have provided at least half of the support in the year before Social Security began paying retirement or disability to the grandparent, or in the year before the grandparent died.
Application and Benefit
To apply for survivor's benefits on behalf of a grandchild, the legal guardian must provide Social Security with a death certificate, the grandchild's Social Security number, the deceased grandparent's Social Security number and the grandchild's birth certificate. Social Security will accept certified copies of official public documents. The amount of the benefit depends on the lifetime earnings record of the deceased worker; Social Security will pay up to 75 percent of a full benefit due to the worker, subject to a "family maximum" amount.
References
Writer Bio
Founder/president of the innovative reference publisher The Archive LLC, Tom Streissguth has been a self-employed business owner, independent bookseller and freelance author in the school/library market. Holding a bachelor's degree from Yale, Streissguth has published more than 100 works of history, biography, current affairs and geography for young readers.