What Claims Can I Make on My Homeowners Insurance?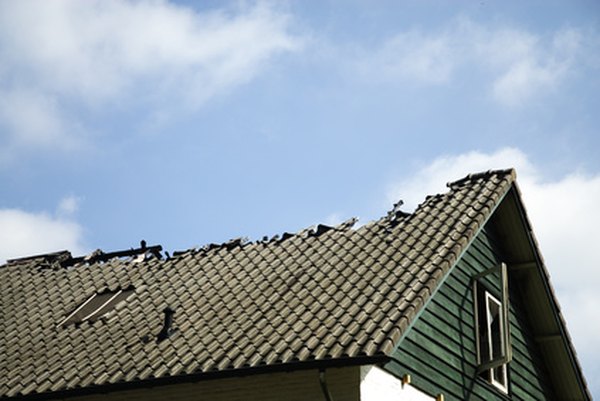 Even though you purchase homeowners insurance to compensate you for property or liability losses, you might not always want to file a claim; that depends on the nature of the damages or loss. In fact, certain claims on your homeowners policy could lead to an increase in your insurance rates. That's why it pays to carefully assess the extent of your losses before contacting your insurance company.
What Homeowners Insurance Covers
Basic homeowners insurance policies cover casualty and theft losses. Your homeowners policy should also protect you from personal liability if someone is hurt on your property. Although homeowners policies don't cover damages that occur because of natural disasters, most policies cover windstorm damage, such as when a tree limb breaks, falls and damages your roof. Although your policy will pay to repair the hole in your roof, it might not pay for damages inside your home that are caused by rain. This could be the case if you failed to take practical steps to prevent further damage until you could make permanent repairs. Separate from your regular homeowners insurance, you can buy a policy to cover disasters such as flooding and earthquakes.
Additional Living Expenses
Normally, homeowners insurance covers the cost of additional living expenses if your home is uninhabitable after a fire, damage from severe weather or other covered casualty loss. In these cases, your homeowners policy will pay for the cost of extra expenses such as meals, and rent or hotel lodging, while you are temporarily displaced. Insurance companies vary when it comes to how long they will pay for these additional living expenses. Know in advance what your policy's coverage limit is. Also, find out whether there are any restrictions or exclusions on the types of costs the insurer will pay.
Ordinance or Law Coverage
Although standard homeowners policies usually include some amount of ordinance or law coverage, insurance companies in states where it isn't mandatory may offer it as optional coverage. The coverage helps pay the costs to bring your property up to current building code after a loss covered by your policy. Ordinance or law coverage can save you footing the expenses out-of-pocket, but most times it won't pay to bring up to code an area of your home that wasn't damaged. Policies generally have limits on how much they will pay.
Claims History
Although filing a single claim isn't usually enough to raise your insurance premiums, a history of even minor claims can move you into a higher-risk category and increase your rates. Companies use different methods to evaluate the amount of risk you pose. Therefore, in some cases it's better to pay for the damages out of your own pocket. Insurance companies use different guidelines, but the kinds of claims you file can affect your rates. As a rule, claims for damages caused by weather won't increase your premiums, but other types of claims can label you as a higher risk. For instance, insurance companies often increase premiums after claims are filed for broken water pipes, slip-and-fall injuries, or dog bites.
References
Writer Bio
Amber Keefer has more than 25 years of experience working in the fields of human services and health care administration. Writing professionally since 1997, she has written articles covering business and finance, health, fitness, parenting and senior living issues for both print and online publications. Keefer holds a B.A. from Bloomsburg University of Pennsylvania and an M.B.A. in health care management from Baker College.