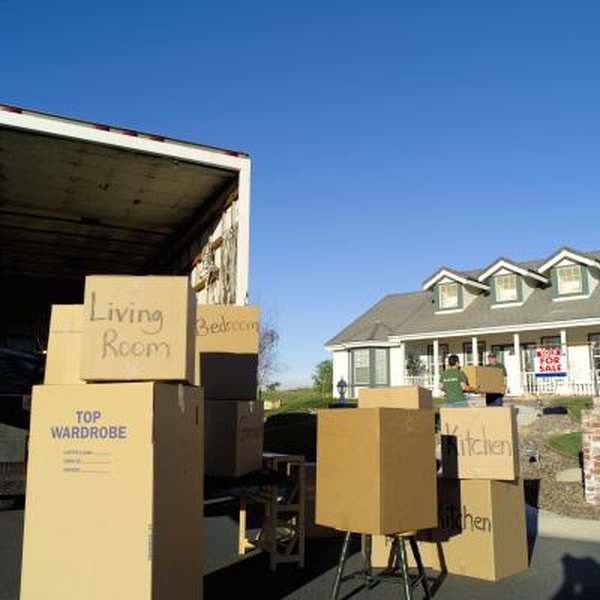 If you qualify, a federal income tax relocation allowance can significantly reduce the cost moving for employment-related reasons. In addition to strict qualification guidelines, however, the Internal Revenue Service also has specific rules regarding what you can and can't deduct. If you've moved during the current year and can establish eligibility, gather tax documents and then compute your relocation allowance.
Establish Eligibility
Establish eligibility by meeting IRS time and distance guidelines, both of which apply whether you're moving because you already have a new job, are moving to find new employment or are self-employed and work out of your home. If you're an employee, you must work full time within the same general area for at least 39 weeks of a 52-week period. As long as you're working full-time, however, you can change employers within this time. If you move to find new employment the same 39-week rule applies; you must find employment and work full-time for at least 39 weeks of a 52-week period. If you're self-employed, however, in addition to the 39-week rule you must work full-time an additional 39 weeks in next 12-month period. Distance guidelines state your new job location must be a minimum of 50 miles from your previous residence.
Deductible Expenses
You can deduct unreimbursed direct moving expenses, including the cost of packing and transporting household goods and personal effects, utility disconnection and reconnection costs and shipping costs for a vehicle and household pets. You can also deduct the cost of moving household goods and personal effects currently in storage, although in this case the amount you can deduct can't be more than what you would have spent if the items were being moved from your former residence. You can also deduct mileage if you use your personal vehicle to transport goods or family members to the new location. After arriving at your new location you can deduct storage and insurance costs for household goods and personal effects for up to 30 consecutive days.
Documentation
Use IRS Form 3903 to compute the amount of your income tax allowance. Although the IRS doesn't require documentation such as receipts, mileage logs or invoices, gather and file any paperwork you have with a copy of your annual tax return. If the IRS should decide to audit your return, you'll need this documentation to substantiate deductions. If your employer reimbursed any portion of your moving expenses, you'll also need your annual W-2 wage statement.
Computation
Total and enter the bulk of your direct moving costs on Line 1 of IRS Form 3903. Direct moving costs include everything except transportation and hotel expenses for you and dependent family members. Enter a total for mileage, parking and toll fees and lodging expenses on Line 2. Calculate mileage according to current IRS standards, which for 2013 is 24 cents per mile. Add the totals and then subtract any employer reimbursement from Line 12 on your W-2 form. If you weren't reimbursed for moving expenses or if your moving expenses were greater than the reimbursed amount, enter your net relocation allowance on Line 5. Transfer this amount to Line 26 on your Form 1040 tax return to claim your tax allowance.
Photo Credits
Brand X Pictures/Brand X Pictures/Getty Images