Differences Between a Stockbroker & a Financial Analyst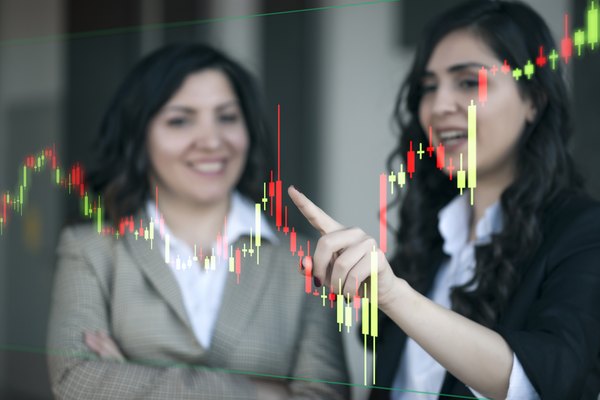 The terms stockbroker and financial analyst are often used interchangeably to describe a type of financial expert who deals with investment opportunities. In reality, the two career paths are very different. While both may be licensed to place security trades for investors, they tend to service different kinds of clients and focus on different outcomes.
What Does a Stockbroker Do?
Before the advent of electronic trading, it used to be extremely difficult for the average person to play the stock market. They needed a middleman to help them execute trades – that person was a stockbroker. Stockbrokers are financial professionals who sell stocks, bonds and other financial products to customers. They help investors find the best prices possible and the right times to buy and sell; in return, the stockbroker earns a fixed fee or a percentage of the value of the transaction.
These days, it is much easier for investors to execute trades themselves. Discount brokerage firms such as Charles Schwab, Fidelity or E-Trade allow people to invest independently, via an online platform, for as little as a $10 investment. These platforms have lowered the barriers to trading such that stock investing is no longer restricted to the very wealthy.
There's still a place for human stockbrokers, however. Large institutional investors will often work with a broker to ensure a trade is carried out at a specific price, or to handle a large volume of transactions in a specific order to achieve specific outcomes. But even for smaller investors, brokers can help execute complicated trades and provide expert advice on the markets.
How Do You Become a Stockbroker?
While many brokers have a degree in business, math or finance, there are no specific educational requirements for entering the business. Most brokers learn their trade on the job, working for a brokerage house or bank, before gaining the required certifications.
The hallmark of stockbrokers is the Series 7 license, which is said to be one of the toughest licensing exams. This permits the broker to buy and sell most securities on behalf of clients. To take the Series 7 exam, the broker must be sponsored by a brokerage or other firm registered with the Financial Industry Regulatory Authority (FINRA).
There are other required exams, such as the Series 63 exam, which deals with ethics, and the Series 66 exam for the broker to be registered in various states. It's also possible for brokers to gain certifications in other areas, such as the Series 53 exam, which allows a broker to trade municipal bonds.
What Does a Financial Analyst Do?
Financial analysts evaluate investment opportunities and help businesses and individuals make investment decisions. The main thrust of the role is data crunching – looking at past market movements, predicting future trends and modeling various scenarios to make profit and loss forecasts under various conditions. Clients use the analyst's findings to make business decisions.
In the context of investing, a financial analyst will work on the buy side or the sell side. Most work on the buy side, developing investment strategies for companies that have a lot of money to invest. These companies include banks, pension funds, securities firms, mutual funds, insurance companies, businesses and universities that have a lot riding on the quality of their investment portfolios.
Sell-side analysts track the stocks in a portfolio and make recommendations such as buy, sell and hold. The pinnacle of the profession is the sell-side analyst for a large investment bank. This person advises banks on how to price their own investment products and sell them to the bank's clients, steering investors into the most profitable securities from the bank's menu of investment packages.
How Do You Become a Financial Analyst?
For such a responsible job, it's surprising to learn that no minimum education requirements exist for entry to the profession. An employer may require a bachelor's degree with a major like finance, economics or statistics, but it's not mandatory. That said, the large employers and investment banks tend to recruit exclusively from elite schools like Harvard and Princeton and prefer applicants with an MBA or relevant graduate program.
The gold standard qualification is the Chartered Financial Analyst, or CFA, designation. The CFA charter is held by over 150,000 finance professionals around the world and proves that the bearer has a strong understanding of advanced investment analysis and real-world portfolio management skills. Many financial analysts will work toward this designation, which binds them to a strict professional code of conduct and ethical standards.
What are the Differences Between a Stockbroker and a Financial Analyst?
To the investing novice, it may seem as if brokers and financial analysts are one and the same thing. However, they are completely different careers. Here are some of the major differences:
Clients
Stockbrokers primarily work with private individuals who invest their own money. Financial analysts, on the other hand, are employed by large institutional entities such as banks and pension funds that invest the money they are managing on behalf of other people.
Trading
A stockbroker is a financial services sales representative who buys and sells stocks, bonds and commodities for private investors. Financial analysts deal exclusively with data and risk. They assess the performance of large portfolios, develop investment strategies and make buy or sell recommendations to decision-makers based on their findings. Financial analysts do not make trades.
Licensing
Chartered financial analysts are licensed by FINRA, an independent regulatory body that polices the investment industry. However, it is not mandatory to earn the CFA certification. Many analysts work with no credentials other than their work history and degree.
Stockbrokers are licensed by the state they work in, after passing licensing exams. They cannot make trades without the proper licensing. You can check a licensing service by using FINRA's online Broker Check service.
Broker-dealers must also register with the Securities and Exchange Commission, with few exceptions. However, it typically is the brokerage house or company that's in the business of buying and selling securities who has to register, not the broker individually. The broker is simply a registered representative of the brokerage.
Value
Brokers add value by providing liquidity to the financial markets. Their job is to make sure that securities are bought and sold efficiently. Financial analysts add value by ensuring that capital is put to its best possible use. Their role is to keep a stream of high-quality information flowing to the institutions that manage huge pots of money.
Salary
Both stockbrokers and financial analysts earn salaries that are far above the national average. The median pay for a financial analyst – that's the halfway point, meaning half earn more and half earn less – was $85,660 annually in 2018. Financial analysts at the big Wall Street firms can make much more, and even first-year analysts at investment banks will be shooting for six-figure packages.
Stockbrokers, wrapped into the category of "Securities, Commodities, and Financial Services Sales Agents" by the Bureau of Labor Statistics, earn slightly less at $64,120 per year. Brokers may work exclusively on commission, however, so they get back what they put in. It's nowhere near the millions you might imagine, but on average both professions are much better paid than the typical worker.
What's the Job Outlook?
Employment wise, the future is not so bright for stockbrokers. FINRA reported 630,132 registered brokers as of Dec. 2017, down 5,770 from the previous year. More than 40,000 registered representatives have left the brokerage industry in the last decade, which may be a direct consequence of the rise in do-it-yourself e-trading platforms.
Financial analysts are faring better. This profession is expected to grow around 11 percent through 2026 – an increase of 32,200 jobs openings – which is much faster than the average for all occupations. Demand tends to rise in line with economic activity. The explosion of "big data" and technological advances also support job growth, as they allow financial analysts to conduct higher-quality analysis which in turn allows their employers to develop new and better quality investment products.
Stockbroker vs Investment Banker and Other Related Careers
Job descriptions tend to be a bit murky in the financial services world, and there are some other related occupations that are often lumped into the stockbroking bracket. Before hiring a professional, it is important to understand what she does, what her credentials are and whether she is the right person to advise in your particular situation.
Stockbroker analyst: An analyst and a stockbroker are two different people as we have seen. However, you may come across a job opening for a "stockbroker analyst," meaning either a person who carries Series 7 certification and financial analysis experience (i.e someone who is a broker and an analyst) or a person who will be working towards either designation. To add to the confusion, a full-service stockbroker may use this title to show that, in addition to making trades, he can offer you investment advice or recommendations. The phrase does not have an "official" meaning.
Stockbroker vs investment banker: Like many financial analysts, investment bankers work in investment banks like Goldman Sachs, JPMorgan Chase, Merrill Lynch and Bank of America. They have an entirely different function, however, and are primarily concerned with raising capital for corporations. The difference between an investment bank and a broker-dealer is the difference between fundraising through the capital markets and enabling everyday people to buy and sell stocks.

Financial advisor: Financial advisors with a Series 7 license can look a lot like stockbrokers as they are allowed to place security trades for clients and offer paid investment advice. However, while brokers focus on the stock markets, financial advisors normally sell themselves as full-service money experts, meaning they provide help with budgeting, mortgages, insurance and tax optimization as well as money market products.
The Bottom Line
As a private investor requiring market advice, you invariably will choose the services of a stockbroker and not those of a financial analyst. The main role of the broker is to put meat on the table, that is, to trade on behalf of an investor who has his own cash to invest. You pay a commission for each trade that is placed.
Financial analysts are incredibly important to investors, but you're unlikely to come across one unless you work in the industry. They're often hidden away in the back office a financial institution, analyzing investments, watching the markets and making recommendations about how large pots of money are managed and invested. They might influence the investment options attached to your 401(k), but they won't hold your hand through a share purchase.
References
Writer Bio
Jayne Thompson earned an LLB in Law and Business Administration from the University of Birmingham and an LLM in International Law from the University of East London. She practiced in various "big law" firms before launching a career as a commercial writer. Her work has appeared on numerous financial blogs including Wealth Soup and Synchrony. Find her at www.whiterosecopywriting.com.