Who Is Eligible for Funds From Railroad Retirement?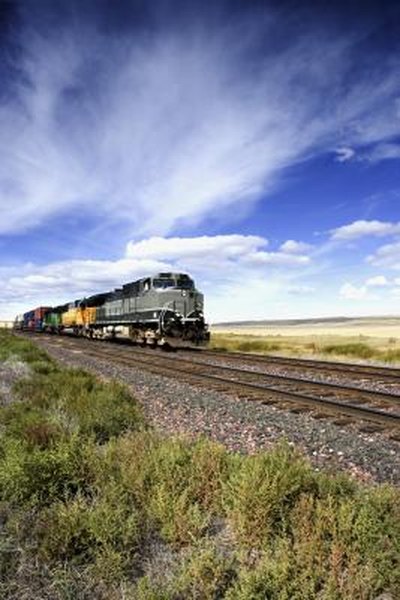 Congress created the Railroad Retirement Board in 1937 because private railroad pensions at the time were inadequate. The program was intended to operate in a similar manner to Social Security. An employee must pay taxes to the retirement system each pay period. If he works for the railroad for 10 years, or for five years after 1995, he will qualify for benefits from the Railroad Retirement Board. If he does not meet that requirement for years of service, his account balance will be transferred to Social Security.
Retirement Benefits
The normal retirement age is 65 to 67, depending on your year of birth. You may take a reduced benefit with early retirement starting at age 62. Tier I retirement benefits are the equivalent of the Social Security benefits the employee would have received from a non-railroad job. The amount of the annuity is based on the employee's highest 35 years of earnings. Tier II benefits operate like a defined-benefit pension plan, which provides a guaranteed payment based on the employees earnings and years of service.
Disability
If an employee is totally and permanently disabled according to Social Security, he is entitled to a disability annuity from the Railroad Retirement Board. The plan also includes an occupational disability annuity for employees who can't continue their current duties but could work another job. To qualify for this benefit, you must have a current connection to the railroad and 20 years of service. If you are older than 60, the service requirement is reduced to 10 years.
Spouses
Spouses are entitled to an annuity equal to one-half of the employee's benefits after he has terminated employment with the railroad and the retirement age requirements are met. The marriage must last longer than one year or result in a child. The age requirement is waived if the spouse cares for a child younger than 16 or a child disabled before age 22.
Survivor Benefits
Survivor benefits are also available to the family of a deceased employee. The employee must have had a connection to the railroad at the time of his death. Spouses, children younger than 18, children who are 19 and still in school, dependent parents and children who were disabled before age 22 are entitled to the benefit. Dependent grandchildren are also eligible if both parents are dead or disabled. Divorced spouses are entitled to survivor benefits if the marriage lasted at least 10 years, or if the spouse is caring for a child younger than 16 or one disabled before age 22. Widowed spouses may not claim survivor benefits if they remarry before age 60. The age requirement drops to 50 if the widowed spouse was disabled before the remarriage.
References
Writer Bio
Denise Sullivan has been writing professionally for more than five years after a long career in business. She has been published on Yahoo! Voices and other publications. Her areas of expertise are business, law, gaming, home renovations, gardening, sports and exercise.