An Explanation of Regular Monthly Dues at a Condominium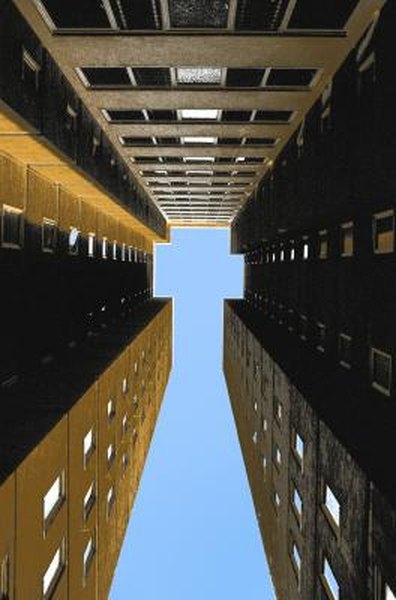 Property owners who live in condominiums are typically subject to monthly assessments in the form of homeowner association, or HOA, dues. Charges vary based on the size, age and location of the property and the amenities that are provided, and the money collected is generally used to finance the overall upkeep of the property. HOA fees are non-negotiable and should be factored into the overall cost of owning a condo. In addition to monthly fees, occasional assessments might also be levied to pay for major condominium projects or repairs, like replacing the roof or repaving the parking lot.
Maintenance
While condo owners often perform routine upkeep and maintenance on their own units, common areas or shared maintenance areas are covered by the association and paid for with monthly owner dues. Fees might go toward landscaping, snow removal, or lighting and maintenance of parking lots. Fees can also cover insurance and maintenance and repair of major shared systems like air conditioning and heating units. Additional upkeep could include cleaning hallways and entryways, repairing broken fixtures, fixing cracked sidewalks and maintaining exterior features. Condo association fees often go toward paying some shared utility costs as well, such as trash removal, water and sewer fees.
Amenities
A portion of the HOA fees goes toward financing the costs of maintaining or repairing shared facilities like laundry rooms, exercise facilities, clubhouses, workout rooms or sports courts, swimming pools and spas. The more amenities a condo has, the higher these fees are likely to be. Special features like concierge, doorman, security patrol or gated community can increase the cost of dues.
Management
A portion of monthly condo association dues goes toward the cost of managing the property. This includes overseeing the use of the association's finances, collecting dues, hosting owner meetings and events and sending regular correspondence to condo owners. The association hires staffers to handle repair requests and service calls, manage owner complaints and code violations and oversee contractors and vendors that provide services to the condo.
Value of Association Fees
Owners typically must abide by association rules or covenants that address issues ranging from pet ownership and noise levels to the right of property owners to make cosmetic changes to their unit. Condo association fees can help a property owner retain the value of his real estate investment by ensuring the ongoing maintenance and uniformity of the property.
References
Writer Bio
Lisa McQuerrey has been an award-winning writer and author for more than 25 years. She specializes in business, finance, workplace/career and education. Publications she's written for include Southwest Exchange and InBusiness Las Vegas.