How to Insure and Bond Cleaning Service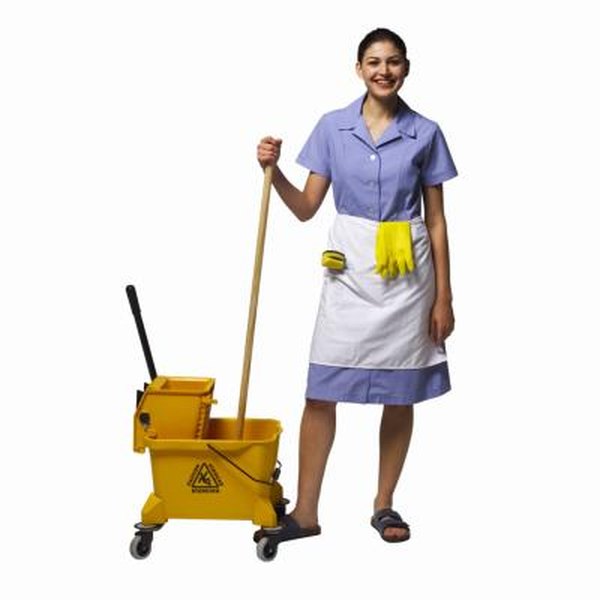 The art of cleaning homes and businesses harkens back to biblical times, when indentured servants tidied up palaces and public buildings. Over time, "being in service" was an admirable career that usually came with living quarters. These days, typical cleaning services operate as independent businesses, employing staff and independent contractors, but one constant remains: Home and business owners still want assurances that workers will leave the site exactly as they found it – only cleaner.
Step

1
Identify the type of cleaning service you operate so you can tailor your insurance and bond needs to your clientele. Perhaps you specialize in home cleaning or you prefer to undertake janitorial duties in large office buildings. Or maybe your cleaning business is devoted to handling one aspect of cleaning: You do windows, carpets, whole-building disaster restoration or you rehabilitate building exteriors. Why start here? Because the value of the property you are responsible for cleaning and the size of your cleaning staff are good barometers of how much and what kind of insurance and bond you pick.
Step

2
Analyze your risk quotient. Use your customers, contractors, employees and the amount of risk you are willing to take to decide how much coverage you need to protect your business when your cleaning crews are on the premises – particularly in situations in which cleaners are left alone at night or when homeowners or staff are absent. Wealthy clients, for example, can decorate their homes with pricier assets than another client with a modest lifestyle. An office decorated with priceless art is more vulnerable to loss than a suite full of nothing but locked desks and cubicles. Use your analysis of clients to make a list of on-the-job risks that can run from crew accidents to theft.
Step

3
Start with worker's compensation. Labor laws require this coverage to help workers recover from accidents, injuries and events that render them incapable of performing their duties. But don't stop with worker's compensation. Choose a liability policy that covers situations and circumstances unique to your client base, urges the Association of Residential Cleaning Services International. Pinpoint your cleaning service's vulnerabilities when shopping for coverage – you might wish to purchase just personal property or dishonesty/crime coverage. An umbrella policy helps with claims that are so big, they can shut your business down.
Step

4
Don't buy the first insurance package you're offered. Solicit multiple companies to compare and contrast policies, premiums and deductibles underwritten by commercial insurance agents and commercial insurance brokers. If you belong to a cleaning or janitorial industry organization, ask if you can buy insurance through them. Consider proposals only from resources on your short list willing to provide the certificate of proof of insurance that clients might request. Choose the coverage offering the best mix of benefits for your bottom line – particularly if you're offered a bundle of policies that combines several coverages at a reduced premium.
Step

5
Explore the world of surety bonds. Not every cleaning service buys them, but there are surprising reasons you might want one. First, they're cheap and they deter a would-be thief from breaking the law while working for you. But bonds are more than just anti-theft deterrents; they are great public relations and marketing tools, suggesting a strong defense against potential employee misconduct. That said, bonds only compensate a bondholder if the thief is prosecuted and convicted. These days, criminal background checks conducted by cleaning services before hiring often substitute for surety bonds, but don't discount the symbolism. The public has come to expect bonding when hiring cleaning services, so it might be worth acquiring one just to say you have it.
References
Resources
Writer Bio
Based in Chicago, Gail Cohen has been a professional writer for more than 30 years. She has authored and co-authored 14 books and penned hundreds of articles in consumer and trade publications, including the Illinois-based "Daily Herald" newspaper. Her newest book, "The Christmas Quilt," was published in December 2011.