How to Invest in American Eagle or American Buffalo Gold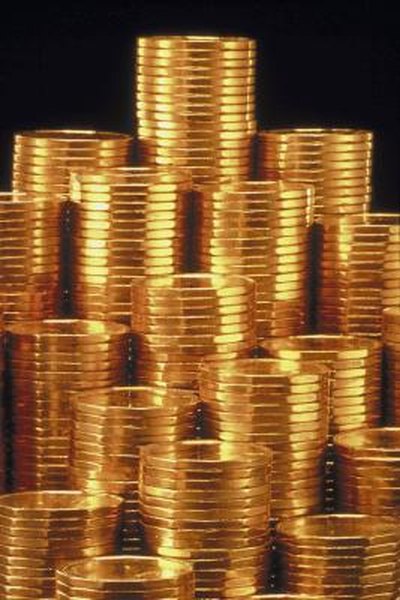 Gold bullion coins are one way to invest in physical gold. Coins minted by the U.S. Mint have the benefit of being backed by a government guarantee for their content and purity, making them a reliable store of value. The U.S. Mint issues two types of gold coins -- the American Gold Eagle and the American Gold Buffalo.
Eagles and Buffaloes
The American Gold Eagle is an extremely popular choice among bullion collectors. It's been pressed since 1985 and available in sizes ranging from one-tenth of an ounce to a full ounce, and conforms to the 91.67 percent pure 22 karat standard that has been in existence for more than 350 years. Gold Buffaloes were first authorized at the end of 2005 and are made of 99.99 percent pure 24 karat gold.
Business Strike vs. Collectible
Both Eagles and Buffaloes are available as bullion and in collectible formats. The bullion coins are minted in bulk and are sold at a minimal markup relative to the value of the gold they contain. Collectible coins, such as uncirculated coins and proofs, are more expensive than bullion coins. When you buy a collectible coin, you're paying for its unique appearance or its purported rarity, but there's no guarantee that it ever will be worth more than the regular bullion coin.
Choosing a Dealer
While you can buy collectible coins directly from the Mint, bullion versions of the Gold Eagle and Gold Buffalo can only be bought from a dealer. The U.S. Mint's list of dealers is a good place to start looking for a reputable one. When choosing a dealer, look at what each charges for the coin. Gold bullion coins are usually priced at a certain percentage above the price at which gold trades on the world's financial markets -- called its spot price. You can find dealers who will sell you coins for a 5 percent markup. At the same time, pay attention to shipping costs and to any credit card or transaction fees, which are common. All of those can increase your overall cost per coin.
Storage
Once you start investing in physical gold, you'll need to figure out where to keep it. While gold coins aren't particularly large, they are valuable, and you could lose thousands of dollars if you misplace them or if they're stolen. If you choose to keep them at home, you'll need a safe storage site, such as a safe, and you may also need to have your homeowners insurance adjusted to cover the coins. Another alternative is off-site storage in an insured and bonded precious-metals depository.
References
Writer Bio
Steve Lander has been a writer since 1996, with experience in the fields of financial services, real estate and technology. His work has appeared in trade publications such as the "Minnesota Real Estate Journal" and "Minnesota Multi-Housing Association Advocate." Lander holds a Bachelor of Arts in political science from Columbia University.