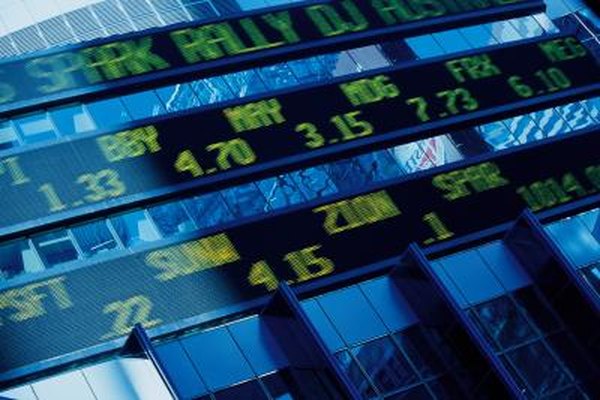 A brokerage account provides the flexibility to buy and sell shares any time the stock markets are open. The trade-off to using a broker is the commission you pay each time you buy or sell shares. For an investor who wants to buy and hold shares for the long term, direct stock purchase plans cut out the broker as a middleman and allow you to buy shares directly from companies. Direct purchase plans allow you to invest with lower costs and to set up automatic additional investments.
Step

1
Research and select stocks that offer direct stock purchase plans and are attractive investments based on your investing style. Companies that offer direct stock purchase programs use third-party companies to handle plan administration. The two largest third-party administrators -- American Stock Transfer & Trust Company and Computershare -- have online databases that allow you to research and see the details of the different plans they administer.
Step

2
Review the fee structure, minimum initial investment and additional investment amounts for the stock purchase plans you selected with your initial screening. Plan costs and minimums are set by the individual companies. Costs range from completely free to plans with setup fees and a fee for each investment you make.
Step

3
Complete the online enrollment for the plans you chose and set up the automated clearinghouse, or ACH, authorization to make investments directly from your bank account. Most direct purchase plans charge extra to handle checks, so use ACH transfers to minimize your investment costs. You must set up a separate enrollment for each stock in which you want to invest.
Step

4
Choose an initial investment amount and an amount for periodic investments and authorize the withdrawals from your bank account. The periodic investment amounts will stay in effect until you make a change through your online access to your direct purchase plan.
Tip
A company may offer either a direct stock purchase plan, or DSPP, or a dividend reinvestment plan, or DRIP. A DRIP requires you to own one or more shares of the stock before you can enroll in the plan. The plan administrator websites show both DSPP and DRIP plans.

If you want to know whether a particular company offers a direct purchase plan, look under shareholder services on the company's investor relations webpages.
Photo Credits
Comstock/Comstock/Getty Images