How to Invest in Vietnam's Stock Market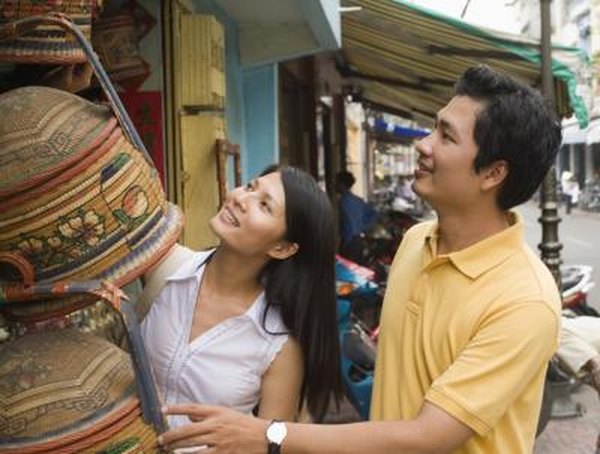 Vietnam's long recovery from civil strife and war in the late 20th century laid the foundation for rapid economic growth in the first decade of the 21st century. Although still operating under a Communist regime, the country has welcomed outside investment and developed a stock exchange for publicly traded companies. Foreign investors can take part through individual company shares or mutual funds.
Emerging-Markets Funds
The easiest way to take part in the Vietnamese stock market is to buy shares in a diversified emerging-markets mutual fund. Based in the United States, these funds invest in growing companies in such markets as Vietnam, Thailand, Poland, Costa Rica and Colombia. The Templeton Emerging Markets fund, for example, held about 8.5 percent of its assets in Vietnam, as of May, 2012, concentrating in consumer goods and commodities. With a mutual fund, professional managers make the buy and sell decisions, spreading their risk across several geographical areas and market sectors. You buy shares at the net asset value, and pay annual fees in the range of 1 to 2 percent for management and other costs.
Exchange-Traded Funds
Investors can also take part with an exchange-traded fund, with shares bought and sold much like shares of stock. As of early 2013, there was only one ETF dedicated to Vietnamese investments: the Market Vectors ETF, which held $434M in assets. About 75 percent of the fund's 31 companies have their headquarters in Vietnam, while the others derive a major part of their revenues from the Vietnamese market. About 42 percent of the fund's holdings are financial companies, with the largest single investments Baoviet, an insurance company, and the Bank for Foreign Trade of Vietnam.
Direct Investment
Investors willing to go through an application and approval process can also buy and sell shares in Vietnam through a local brokerage. You must apply for a securities trading code to trade Vietnamese stocks in your own name, and furnish a letter of good standing. The letter, and a copy of your passport, must be witnessed and certified by a notary, and you must provide a Vietnamese translation of any English documents to the brokerage seeking approval of the account on your behalf.
Bank Accounts
To deal locally in Vietnamese investments, a local bank account is also useful. The bank can more easily handle deposits, withdrawals, currency exchanges and electronic transfers to your brokerage account. You must open a "capital contribution account" that holds Vietnamese currency, and furnish a signed authorization letter that allows your new bank to transfer money to and from the brokerage, and between Vietnam and your home country.
References
Resources
Writer Bio
Founder/president of the innovative reference publisher The Archive LLC, Tom Streissguth has been a self-employed business owner, independent bookseller and freelance author in the school/library market. Holding a bachelor's degree from Yale, Streissguth has published more than 100 works of history, biography, current affairs and geography for young readers.