How Investors Invest in the Caribbean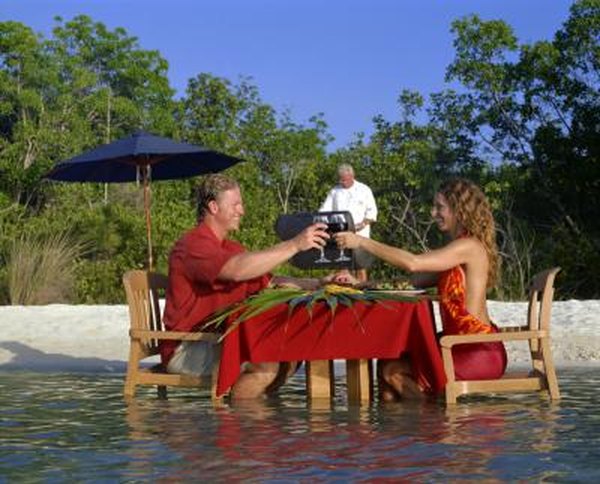 As a group of growing and developing economies in an appealing tropical zone, the Caribbean islands offer diverse opportunities for investors, ranging from traditional forms of investment in tourism and real estate to the various emerging markets in the islands. The Caribbean economies have been expanding from their traditional, limited roles in the world economy, making them a good place for eager investors to look into new sectors and modes of investment.
Tourism
Tourism has been one of the major industries of the Caribbean and a staple of investment in the region. The weather, natural beauty and luxurious accommodations of the region make it a strong draw for tourists from more temperate climates. Hotels, travel bureaus, golf courses, restaurants, tours and cruise lines are all possible investments that can provide substantial returns. You can invest in tourism products and services through large institutional investment companies like Citigroup that are developing operations in the Caribbean. Locally based entrepreneurs are also eager for direct investment and assistance; work directly with these small-business owners by visiting the country and building working relationships with them.
Real Estate
Real estate is another traditional way to invest in the Caribbean. Real estate, as long as it is fundamentally sound in terms of location, typically provides a stable investment base. Real estate in the Caribbean is most easily purchased through local brokers, but direct owner-to-seller purchases can be made from abroad through online real estate sites and bank transfers. Real estate is versatile as an investment, because it can be used for a variety of different projects, from bed and breakfasts to local businesses.
Finance and Information Technology
Many large corporations, including phone and Internet providers and banks, are locating their headquarters or satellites in the Caribbean to take advantage of tax incentives, the business-friendly environment that many Caribbean governments have cultivated to attract investors and the region's large, highly skilled labor force. Information and technology companies, financial institutions and land developers offer many direct investment opportunities.
Education
The growing need for doctors and health-care professionals in the United States is helping drive the growth of Caribbean medical schools, according to the World Bank. Approximately 23 medical schools in the Caribbean are ripe for investment, particularly the Ross University of Medicine in Dominica and Granada's St. George's University School of Medicine. Call the schools directly for investment options.
Caribbean Startups
As increasing numbers of Caribbean natives launch their own businesses, many are seeking financial backing for early stage growth, giving outsiders an opportunity to invest directly in the growth of the Caribbean economy. Incentives for outside help vary. Groups such as the consortium of 100 small-business owners that make up Unique Jamaica are sources of information for foreign investors.
References
Writer Bio
Linda Ray is an award-winning journalist with more than 20 years reporting experience. She's covered business for newspapers and magazines, including the "Greenville News," "Success Magazine" and "American City Business Journals." Ray holds a journalism degree and teaches writing, career development and an FDIC course called "Money Smart."