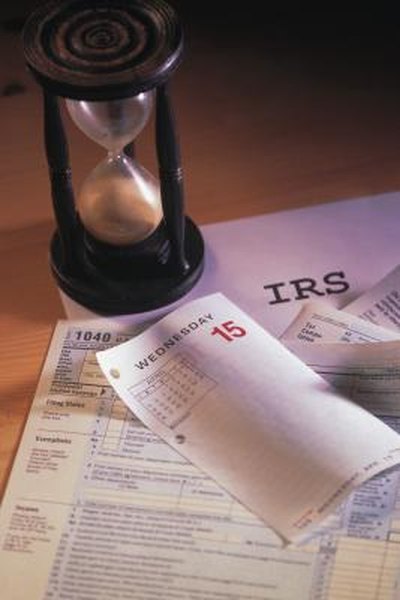 Form 1041 reports income, losses, capital gains and taxes on a domestic decedent's estate or trust. The fiduciary must file this return on or before the 15th day of the fourth month after the fiscal year end. For example, If the trust or estate is based on the calendar year, the filing deadline is April 15th. If any assets were sold during the year, the fiduciary must also file Schedule D with Form 1041. Before completing Schedule D, separate your transactions based on whether the asset was held for one year or less before it was sold. You must report short-term gains and long-term gains in different sections of Schedule D.
Sale of Assets
List each short-term asset on a separate line in Part I of Schedule D. Report your sales of long-term assets on separate lines in Part II. Include a brief description, the dates you bought and sold the asset, its cost basis, the sale price and the gain or loss you realized on the sale. For stocks, bonds and mutual funds, your 1099-B form may list the cost basis. If it does not, ask your broker for the original purchase price.
Pass Through Gains and Losses
List any gains or losses from other estates, trusts, S corporations or partnerships in Part I or Part II, depending on whether the gain is short-term or long-term. Transfer your gains or losses from Forms 4684, 4797, 6252, 6781 and 8824 to the appropriate lines on Schedule D. Enter any capital loss carryover from the previous year and total all of the columns.
Calculate Your Totals
Add the columns in Part I to find your net short-term gain or loss. Repeat this process for Part II to determine your net long-term gain or loss. Separate each total between gains or losses allocated to the estate or trust and those allocated to its beneficiaries. List these amounts in the appropriate columns on lines 13 and 14a. Include any unrecaptured Section 1250 gain from the sale of depreciable real estate on line 14b. Complete the 28-percent rate gain worksheet if column 3 of lines 13 and 14a are both greater than zero and the trust or estate has sold collectibles or qualifying small business stock. Total each column to find the net gain or loss.
Capital Loss Carryover
If you have a net loss on line 15, column 3 of Part III, complete Part IV to determine your capital loss deduction and any applicable capital loss carryover for the next year. For 2012, you may deduct capital losses up to $3,000. If your net loss from Part III exceeds $3,000, use the capital loss carryover worksheet contained in the instructions for Schedule D..
Taxes Due
Use Part V to calculate your taxes due if column 2 for lines 14 and 15 are both greater than zero. If either of these columns does not have a positive value, you must use the tax calculation worksheet from the Schedule D instructions to determine your capital gains tax for the year.
Photo Credits
Comstock/Comstock/Getty Images