Managing the Cash Values of Permanent Life Insurance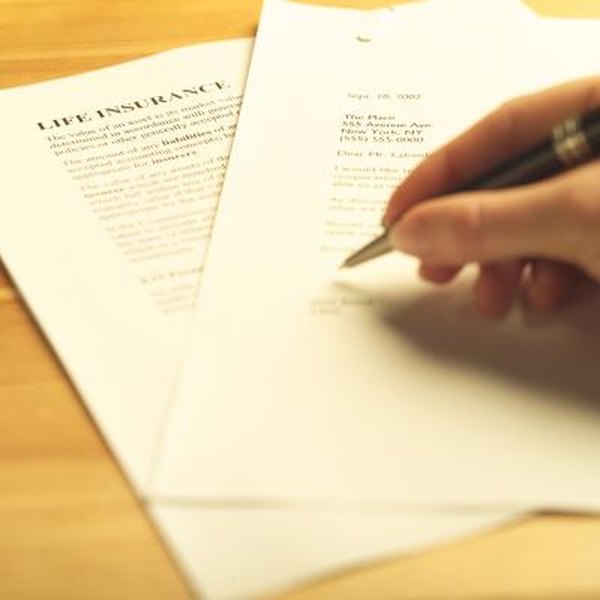 Permanent, or whole life insurance, offers you a death benefit and cash value. The cash value is the value of the policy if you cash it out, while the death benefit, or face value, is the payout in the event of your death. The maturity date -- which usually is set at 95 or 100 -- becomes more important if you are healthy and have a realistic chance to reach the age of maturity. Permanent life insurance policies endow or provide income at the cash value at maturity. This means the cash value and death benefit of a properly designed policy will match at the maturity date.
Designing Premiums
A premium is the payment you make on your permanent life insurance policy. If you want your cash value to be the same as your death benefit if you meet the policy's maturity date, you need to pay a large enough premium to reach your goal. Some insurers design policy premiums to be paid until the insured reaches life expectancy rates. Insurers base these on the projected age when 50 percent of a population will still be living, while the other 50 percent has passed away.
Managing Beyond Life Expectancy
While it's true that if you die before the policy maturity date, a $1 million death benefit pays out the same whether you have $1 of cash value or $900,000, it's not the whole story. That's why you can't just set up your policy and premiums and forget about them. You have to periodically review your policy and make changes if necessary. For example, if you reach the age of your life expectancy and are in good health, you may need to adjust your premium payments to build more cash value. At the same time, if your health has declined, and the likelihood of attaining the maturity age is unlikely, you may need to adjust your premiums downward or stop paying them.
Stopping Premium Payments
If the insured has a terminal disease that gives him a small chance of living beyond five years, he may be able to stop premium payments and use that money for other purposes. This assumes he has made adequate premium payments during his lifetime. It's still a good idea, though, to keep some of the money in an investment that allows him to begin paying the premium again if a cure is found or health returns.
Paying Taxes
If you do reach the age of maturity and your policy endows, you'll have to pay taxes on the payout of the cash value. This can cause a significant and unexpected tax liability. On the other hand, death benefits pass to your beneficiary tax-free. To solve this problem, some life insurance companies offer riders that consider the premium paid up at maturity but keep the death benefit in force. This enables the cash value/death benefit to transfer without taxes to the beneficiary when the insured dies after the policy's maturity date.
References
Writer Bio
Chris Brantley began writing professionally for a financial analysis firm in 1997. From 2000 to 2004, he worked as a financial advisor, specializing in retirement planning and earned his Series 7, Series 66 and insurance licenses. Brantley started his full-time writing career in 2012 and has written for a variety of financial websites, including insurance, real estate, loan and investment sites. He holds a Bachelor of Arts in English from the University of Georgia.