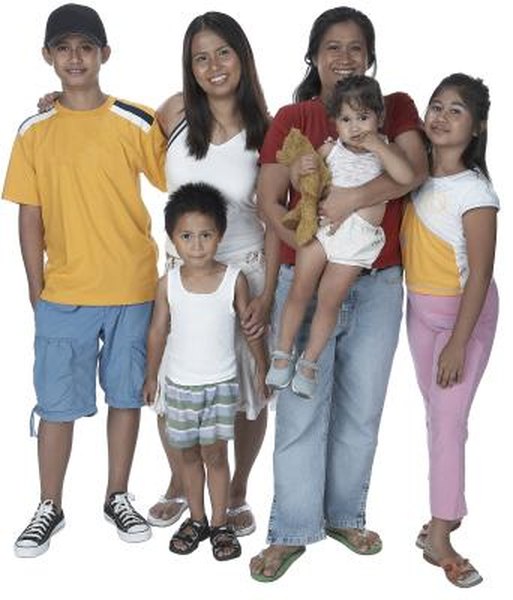 In addition to all of your other tax deductions, the Internal Revenue Service lets you exclude a certain portion of your income from your taxes for simply being a member of society. These exemptions apply to you and to people that depend on you. Furthermore, the IRS offers additional ways that you can reduce your tax if you have dependents.
Personal Exemptions
The IRS lets you claim a personal exemption for every person covered on the tax return and their dependents. If you are a married couple with three minor children that depend on you for support and you file jointly, you would claim five exemptions -- two for you and your spouse, and three for your children. The exemption amount can change yearly. For example, it was $3,800 in 2012 and $3,900 in 2013. As long as your exemptions aren't limited, you would multiply the number of exemptions by your exemption amount to find your total write-off. A five-person family in 2013 would get a $19,500 write-off, which would reduce their taxable income. If they paid a 33 percent marginal rate, the write-off would be worth $6,435.
Filing Status
If you aren't married, dependents bring another benefit. Single people that maintain a house for dependents get to file taxes under the "head of household" filing status. As a head of household, the tax brackets are broader than they would be if you filed as a single person. For example, in the 2013 tax year, a single person would pay $50,131 in federal income tax on a taxable income of $200,000 while a head of household would owe $46,739.
Qualifying Dependents
The IRS requires your dependent to be a qualifying child or relative. To the IRS, a child includes a stepchild, foster child or other descendant, such as a granddaughter. You can also claim a sibling, stepsibling or one of their descendants. To qualify, the child must be under 19, under 24 if a student or any age if disabled and must live with you for at least half of the year and receive at least half of their support from you. Dependent relatives who are not your children need to have gross incomes less than $3,800 and need to depend on you for half or more of their support.
Three Tests for Dependents
To qualify as a dependent, a person must also meet three tests set by the IRS. First, they must be dependent on you. If they can claim someone else as a dependent, you cannot claim them as your dependent. Second, you cannot claim someone as a dependent if they file a joint return with someone else. This rule would apply to a minor child that is already married, for example. Third, the dependent must be a resident or citizen of the U.S. or a resident of Canada or Mexico.
Photo Credits
Photos.com/PhotoObjects.net/Getty Images