How Much Debt Can You Have to File Chapter 7?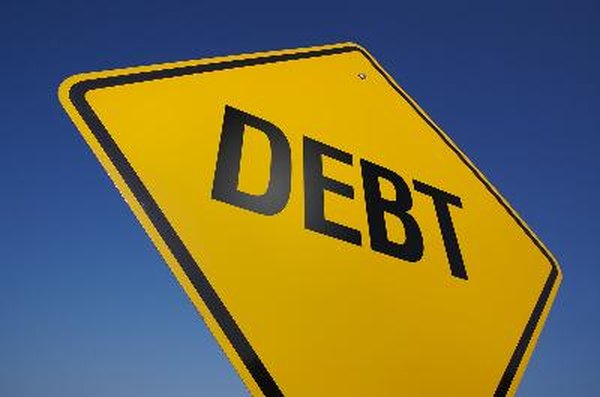 Personal bankruptcy protection is available to individuals who are struggling with unpaid credit card bills, medical bills, foreclosure or other types of debt. Chapter 7 bankruptcy is designed specifically for debtors whose income makes it difficult or impossible to meet their obligations. In most cases, you can file Chapter 7 bankruptcy to eliminate all of your debts, although in certain situations, a debt may not be discharged.
Unsecured Debts
An unsecured debt is a debt that isn't attached to any type of collateral. Examples of unsecured debts that may be included in a Chapter 7 bankruptcy case include credit card debt, hospital bills, payday loans or other types of personal loans. As of 2012, the federal bankruptcy code does not put a limit on the amount of unsecured debt you can claim in Chapter 7.
Secured Debts
A secured debt is usually tied to a specific item or piece of property, such as a home or vehicle although it may also be possible to secure a loan using jewelry, artwork or family heirlooms as collateral. As with unsecured debts, there is no limit on the amount of secured debt you can include in a Chapter 7 filing. However, if you plan to keep the property, you must reaffirm the debt and continue making your payments as scheduled both during and after the bankruptcy proceeding.
Nondischargeable Debts
Certain types of debt cannot be discharged in Chapter 7: You're still obligated to repay them after your case is completed. Under federal bankruptcy law, the types of debts you cannot discharge include child support and alimony, any debts you failed to include your bankruptcy petition, government fines or penalties owed, money borrowed from tax-advantaged retirement plans, court fines and penalties, restitution, certain types of taxes and condo or co-op fees. Student loans are generally not dischargeable in bankruptcy unless you can prove a severe and permanent financial hardship. Fraudulent debts or certain debts that were incurred within the period immediately before filing are also not dischargeable. It's also worth noting that if you incur a debt jointly, only you will receive a discharge, and the co-debtor will still be responsible for the debt.
Considerations
To file Chapter 7 bankruptcy, you must be deemed eligible based on the means test, which compares your median income for the six months prior to filing to state median income limits. To qualify to file for bankruptcy, your median income must be equal to or less than the amount allowed for your household size. If it's higher, the court will look at your income and expenses to determine whether you can repay your debts under a Chapter 13 plan. As part of your Chapter 7 filing, you may be required to give up some or all of your assets or property to the bankruptcy trustee presiding over your case. Any assets you surrender are liquidated and the proceeds used to pay your creditors.
References
Writer Bio
Rebecca Lake is a freelance writer and virtual assistant living in the southeast. She has been writing professionally since 2009 for various websites. Lake received her master's degree in criminal justice from Charleston Southern University.