How Much of a Difference Should I See When Raising the Deductible on My Homeowner's Insurance?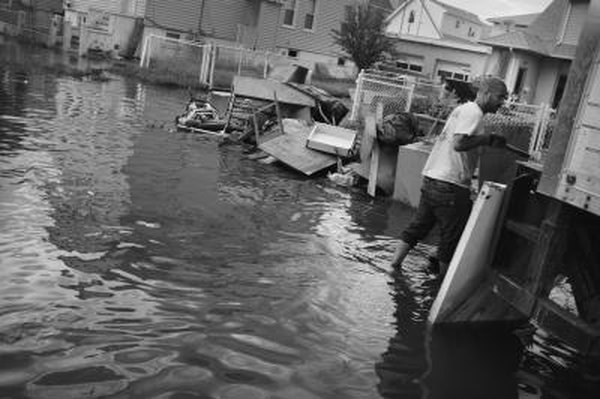 During 2012, homeowner's insurance premiums were expected to increase by 5 percent to an average premium per policy of $1,004, according to the Insurance Information Institute. The premiums were expected to rise even more in some states, particularly in areas that are prone to natural disasters like hurricanes. The increases in premiums are necessary to provide funds to pay for increased claims, brought on by a higher frequency of losses and increased construction costs for home repair and replacement. Many homeowners want to reduce their premiums, and a higher deductible can be an effective way to do this.
Why Higher Deductibles Cost Less
A higher deductible on a homeowner's insurance policy saves money because it reduces the insurance company's exposure to risk. Smaller losses that an insured homeowner may have filed a claim for now become the responsibility of the homeowner with a higher deductible policy. In addition to the actual cost of the claim, the insurance company saves on other administrative expenses, such as the price of claim processing.
What You'll Save
The amount you save by choosing a higher deductible varies depending on the insurance company and the rates that they charge. It may also vary depending on where you live and your previous claim history. Raising the deductible on a homeowner's policy from $250 to $1,000 can reduce your premiums by up to 25 percent, according to the Better Business Bureau,
Less Risk of Cancellation
In addition to the premium savings, a higher deductible offers other benefits. You are less likely to file a claim if you carry a high deductible, because many small losses will be less than the deductible amount. Filing too many insurance claims can cause your insurer to review your policy for cancellation and make finding a new homeowner's policy more difficult.
Other Ways to Save
Increasing a deductible is only one way to save on homeowner's insurance. Compare policy rates with other insurance companies regularly, so that you can be sure that you are receiving the lowest rate possible. You may also opt for reduced coverage on your personal belongings. Some insurance companies also offer reduced coverage for certain types of losses, such as wind damage, which may save you money as well.
References
Resources
Writer Bio
Craig Woodman began writing professionally in 2007. Woodman's articles have been published in "Professional Distributor" magazine and in various online publications. He has written extensively on automotive issues, business, personal finance and recreational vehicles. Woodman is pursuing a Bachelor of Science in finance through online education.