How Much Will Homeowner's Insurance Cost on Top of a Mortgage?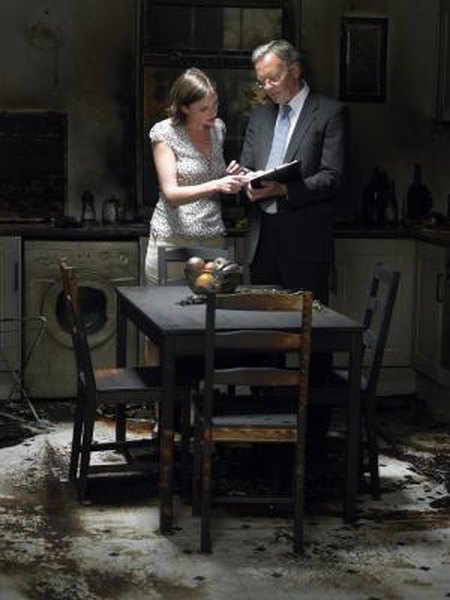 Homeowner's insurance premiums increased by 4 percent in 2011 and were expected to increase by an additional 5 percent in 2012, bringing the annual average premium to just over $1,000 per year. If you finance your home, your mortgage company will require you to carry insurance to cover you and the mortgage company if you were to experience a loss, such as if your home burned or was blown over by a tornado. The cost of the insurance will add to the expense of owning a home and in some cases will directly increase your mortgage payment.
Escrow Accounts
Many mortgage companies, depending on the terms of your loan, require you to pay your homeowner's insurance directly from an escrow account. This is an account that your lender sets up for you to deposit a portion of your yearly homeowner's insurance bill in each month. If your homeowner's insurance bill is $1,200 per year, your mortgage company will collect $100 per month from you to deposit into this account. When your homeowner's insurance bill comes due, the mortgage company will pay it from that escrow reserve account.
Type of Coverage
Homeowner's insurance prices vary depending on the type of coverage that you choose. You can buy a more limited policy for much less money, but it may have a high deductible and may not provide the coverage that you need, nor the coverage that your mortgage company requires. Check with your mortgage company when you purchase or refinance to determine their requirements for coverage.
Liability Rates
Personal liability coverage is a large component of most homeowner's policies. You should purchase enough liability coverage to protect you if you get in a situation where someone can sue you, such as if they slip and fall on your property. Generally, you should have liability coverage equal to your net worth. While liability insurance, like other coverages, increases in price as you increase the coverage, you can save on liability coverage by purchasing an umbrella policy. This is a special policy designed to cover higher liability limits at more reasonable prices. An umbrella policy would be paid outside of your mortgage, in a separate bill.
Replacement Costs Coverage
You can insure your home and contents for the actual cash value of the property, but it may make more sense to cover your home for what it would cost to build a new house and replace the all of the personal items inside of your home with new things. Replacement cost coverage is more expensive than cash value insurance, but it can guarantee that you are able to rebuild your home if it is lost. Be sure to check whether you need an additional rider to cover some of your property, such as jewelry and musical instruments.
References
Writer Bio
Craig Woodman began writing professionally in 2007. Woodman's articles have been published in "Professional Distributor" magazine and in various online publications. He has written extensively on automotive issues, business, personal finance and recreational vehicles. Woodman is pursuing a Bachelor of Science in finance through online education.