Oil Companies That Trade on the Stock Market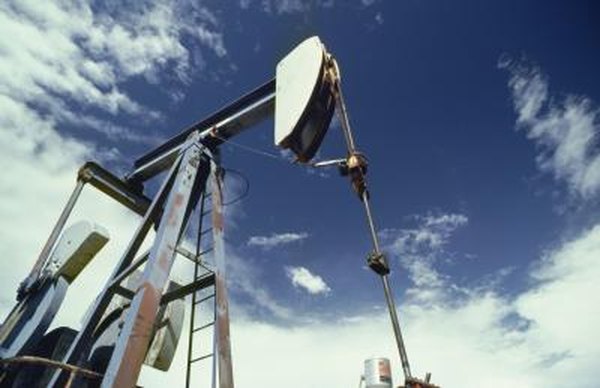 Of the 500 large companies included in the S&P 500 in the U.S., 11 percent of the total market value comes from energy sector companies. Depending on how you define oil companies, there are 50 to 100 oil company stocks trading on the U.S. stock exchanges. The types of oil companies can be divided into several categories, which should help you narrow down your investment choices.
Large Integrated Oil Companies
The large integrated oil companies are some of the largest businesses in the world. These companies cover the entire range of crude oil production, from drilling wells to selling gasoline at the pump. The big oil companies have well-known names such as Exxon-Mobil and Chevron. Since these large oil companies earn money from all sectors of the oil business, they tend to be consistently profitable and pay steady and growing dividends to investors. Since ConocoPhillips split its business in 2012, Exxon-Mobil and Chevron are the two remaining large U.S. integrated oil companies.
Exploration and Production Companies
Companies involved in oil exploration and production -- called E&P -- drill for crude oil, with the hope and expectation of finding oil and selling the crude oil they produce. There are several dozen E&P companies in the U.S. Some E&P companies, such as Occidental Petroleum and Apache Corp., are large corporations drilling for oil all over the world. Others are smaller or midsized companies drilling and producing oil in the oil fields of the U.S. and Canada. If you are looking for lists of exploration companies, there are several energy E&P exchange traded funds -- ETFs -- and the holdings of those funds will be the stocks relevant to your research.
Foreign Oil Companies
Oil is an international business, and the larger foreign oil companies list their shares on the U.S. exchanges. Some names will be readily recognizable, such as BP from Great Britain, Royal Dutch Shell of the Netherlands, and Total from France. Oil companies from China, Brazil and Columbia are also large players on the international oil markets and list shares in the United States. Foreign stock shares listed in the U.S are called American Depository Receipts -- ADRs -- and lists of these companies can be found and sorted on the adr.com website.
Oil Processing Companies
Besides drilling for and finding oil, there are other parts to the crude oil industry. The oil-field services companies such as Schlumberger and Halliburton are large companies essential to the oil industry. Oil refining companies are at the other end of the crude oil business, turning crude oil into marketable products like gasoline, jet fuel and chemicals. Dedicated refining companies include Phillips 66, which was spun off by ConocoPhillips and Valero.
References
Writer Bio
Tim Plaehn has been writing financial, investment and trading articles and blogs since 2007. His work has appeared online at Seeking Alpha, Marketwatch.com and various other websites. Plaehn has a bachelor's degree in mathematics from the U.S. Air Force Academy.