How to Find Out If Bonds Have Been Cashed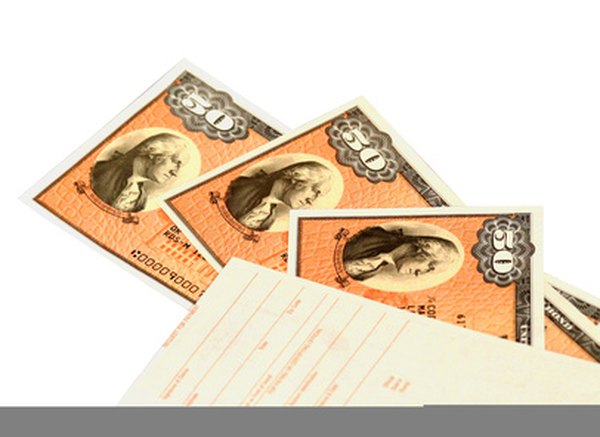 At the end of January 2018, TreasuryDirect reported an astounding 35,994,100 Series EE Savings Bonds were unredeemed and still floating around. Those bonds have a value of $15,049,434,597. If you have found some old certificates, depending on the issue date, it may be a simple thing to find out if savings bonds have been cashed out already. You can still track even older matured bonds with the Treasury Department, if necessary. Once you know the status of your bonds, you'll know how to proceed with redeeming them.
Start Your Search Locally
TreasuryDirect recommends starting your search at your local financial institution. Here, you may be quickly able to determine whether your bond is still eligible to be redeemed. If you reach a dead-end here, your next step is to send a signed request to the U.S. Treasury.
Send a Written Request
If you're the owner or co-owner of the bond, write a letter to the Treasury Department requesting a manual check to see whether the bonds are still unredeemed. Include your SSN or EIN and complete name, as well as the bond's serial number, issue date and the face value of the bond in your query letter. If both the owner and co-owner are deceased, you'll have to include a copy of each person's death certificate with your signed request.
Tip
Mail your request to: Treasury Retail Securities Services, P.O. Box 214, Minneapolis, MN, 55480-0214.
Fill Out the Claim Form
Visit TreasuryDirect.gov and perform an internal search for "Fiscal Service Form 1048 (Claim for Lost, Stolen, or Destroyed United States Savings Bonds)". This form also includes detailed instructions to help walk you through a step-by-step process to file your claim. The U.S. Treasury's search results of your claim will let you know if your bond has already been cashed or if it's still redeemable.
Gather Supporting Information
You'll need to provide as much information as possible, including the bond's issue date, face amount and bond number. Form 1048 is used when bonds are lost, stolen, or misplaced. It's also used by those who live in disaster-declared areas. If you live in a declared disaster area, you won't have to fill out the entire form. The instructions require you to complete only Parts 1, 5, 6.B and 7, and they also direct you to write "DISASTER" at the top of the form and on the envelope.
Submit an Inquiry Through TreasuryDirect
Visit the "Contact Us" page of the TreasuryDirect website. Fill in the fields of the form, including a short message about the bonds you are trying to locate. Providing the serial number for the bonds will help speed up the process. A TreasuryDirect employee may contact you for additional information to search manually for your bonds.
References
Resources
Writer Bio
Kathryn Hatter is a veteran home-school educator, as well as an accomplished gardener, quilter, crocheter, cook, decorator and digital graphics creator. As a regular contributor to Natural News, many of Hatter's Internet publications focus on natural health and parenting. Hatter has also had publication on home improvement websites such as Redbeacon.