Pitfalls of Buying Houses at Auction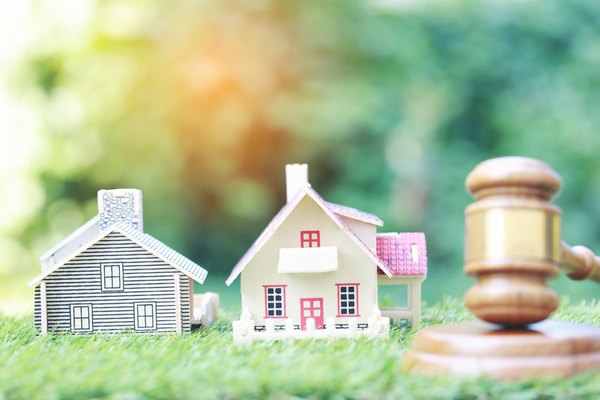 The internet has made it easier than ever to buy a house at auction. At the same time, though, easier access to auction notices has bumped up competition. You can get a good deal by buying at auction, but you'll need cash and a full awareness of the value of the property to avoid making a very costly mistake.
Tip
Although investors can get a good deal by buying a house at auction, it comes with a few risks since you can't do a walkthrough of the property before you pay for it. Research can help reduce those risks, though.
Buying Houses at Auction
There are two ways a house ends up at auction. One is that the owner stopped paying the mortgage, resulting in an eventual foreclosure by the bank. The other is that the owner didn't pay property taxes, which led to a tax lien auction by the local government.
When houses go to auction, either they are sold on the courthouse steps by a hired auctioneer or they're taken over by a third-party company that sells them on behalf of a company. The latter type of auction can take place anywhere, including online or in hotel conference rooms. Unlike in-person auctions, which handle everything immediately, online auctions can take days or weeks.
Buying at Auction With Mortgage
One thing making buying houses at auction less competitive is that it's usually a cash-only proposition. Frequent buyers sometimes lock down financing in advance through private investors, but on the day of the auction, they have cash in hand. This is referred to as "hard money" and it's designed to cover the cost to purchase, repair and resell the property, so it's generally issued to real estate investors planning to fix and flip the property.
The biggest problem with traditional mortgage financing is that there simply isn't enough time. The vast majority of lenders won't hand over money for a mortgage without a property inspection and appraisal, even if you qualify for a loan. Even having preapproval won't help you at an auction where all participants are generally prequalified as having the cash necessary to pay if they win.
Delayed Financing for Auction Properties
If you have plenty of cash in the bank but you want to mortgage your new house, you can take advantage of an option called delayed financing. You'll need to find a lender that offers this type of loan and show where the cash you used to purchase the home came from. The loan will be in process soon after you buy the house.
One complication with delayed financing on auction properties, though, is that in order to get the loan, you'll have to prove that there are no liens against the property. When you purchase it on the courthouse steps or in a quick auction in some conference room, you may not have the luxury of determining this. As a result, you could be saddled with the cost of paying off those liens before you can get financing.
Getting a Good Deal
During the housing crisis, you could get a good deal on auction properties. It was a buyer's market in many areas of the U.S., which meant there were plenty of homes to satisfy demand. Today, however, there aren't quite as many homes available, especially in growing markets, leading to a very competitive buying process.
The best way to get a good deal is to know the market and fully understand what homes are worth in various areas of your target town. Then watch for auction notices on sites like RealtyTrac and Auction.com. You can also get information on foreclosures through local real estate resources, but it's important to note that not all foreclosed properties go up for auction.
Once you know an auction is taking place, the real work begins. Research the property as much as possible before putting down an offer, both through your local government and online. You should be able to get information on the history of the property through local government offices.
Real Estate Agents and Auctions
When you're buying a property, the first place you usually go is a real estate agent. An agent is plugged into the local market and often knows the location of many of the best foreclosures in town. An agent could also help with finding out more about the condition of the property, possibly even guiding you through the process.
Unfortunately, though, agents aren't generally eager to take on clients looking for auction properties. There's a good reason for that: agents usually don't make a commission on auction property sales. Agents do have access to local MLS reports and may be able to help you without charge if you ask for information on a specific property you're considering.
Offsetting the Risk
Buying a house at auction comes with inherent risk. You won't get to see inside the home before the auction date, let alone have a property inspection done. That means something serious could be wrong with the property, and you would never be aware of it until after you've already committed to buy it.
Even though you may not be able to tour the interior of the home, you can still take a look at the outside. Peek into windows to determine just how much work the interior will need. You can also look for signs of structural damage, including:
Small holes in wood or dry mud tubes on the foundation signal the possible presence of termites
Broken windows could have let water in, possibly leading to mold
Exterior doors no longer flush with the doorjamb could mean foundation problems
Heavy residue on brick chimneys may indicate moisture issues with the chimney
You can also check the foundation by making sure each wall of the house is a straight line to the foundation, from top to bottom. If you see any bulges in poured concrete walls or bulges on the visible part of the foundation itself, it could be a sign of shifting soil, which puts pressure on the structure of the home.
Auctions Aren't for Picky Buyers
The very nature of auctions means they aren't for picky homebuyers. Usually, they attract investors interested in making a profit once they repair any issues, especially if it's in an up-and-coming area of town where property is at a premium. If you're looking for your dream home, you'll likely be better off sticking with traditional listings or even having your home built.
That doesn't mean you can't buy a foreclosed home and still get a look at it. Foreclosures are usually listed on sites like Realtor.com for months prior to the auction, often listed as either bank owned or REO. You can get in touch with the agent on the listing or, if you have your own agent, simply let that person know you're open to properties that are in foreclosure.
Paying Too Much
Even if a house seems like a good deal, one major danger of buying houses at auction is that you don't know what the property is worth. It will go to the highest bidder, and if that high bidder is you, it could be that the other bidders stopped when it reached a certain value. Since many auctioned properties require work, if you pay too much at auction, you may never recoup that amount plus what you put into it.
One way to reduce this risk is to be fully aware of the market for similar properties at the time you put in your bid. You can often either look at the auction statement or search the address online to find out the purchase price of the home when it originally sold, as well as what its estimated value is today. A realtor can pull this information, as well.
Auction Homes Are Fixer-Uppers
When a homeowner is forced from a home, the exit is rarely on good terms. Unlike a regular home seller who invests time and money into making sure the house is in the best condition possible, a homeowner surrendering a house usually just moves out. At the very least, this means you'll need to prepare to paint and do serious cleaning.
In many situations, though, the issues run much deeper. You may find basic items missing, such as light fixtures and doors. Even worse, often a property remains abandoned for months or years as the bank or local authorities take the legal measures necessary to seize the home. There could be mold where water was allowed to seep in, overgrown brush or a host of other problems.
Participating in Courthouse Auctions
The process of participating in a courthouse auction can be intimidating, especially if you find yourself surrounded by experts when you arrive. Before you go, call to see if you'll need to be prepared to pay the full amount at the auction and, if so, make sure you have either cash or a cashier's check on the day of the auction. You'll also need to show up with your identification and any required financial documentation.
Show up a little early so you'll have plenty of time to register as a bidder and get everything you need in place. If you are the winner, get all the documentation you'll need to set yourself up as the verified owner of the property. You should also ask what steps you'll need to take next to finalize the deal.
Participating in Online Auctions
Many counties have moved their auctions online, which is a different process than you'll experience at the courthouse. As with a courthouse auction, though, you'll need to register in advance of the auction and there may be a verification process. Many platforms promise sellers that only serious, preapproved bidders will be participating in the auction, so you'll need to allow plenty of time to go through some extra steps initially.
The best thing about online auctions is that you usually can get everything lined up ahead of time so all you have to do is bid on the chosen date. Once you're signed up, you'll be able to attend later auctions, as well, simply updating any information that has changed. This gives you time to work out the process, rather than having to figure it all out once you arrive at the courthouse.
After the Sale
The last pitfall of buying a house at auction happens after the entire thing is over. It can take up to 10 days to receive the title to your new property if you're the winner. You'll have a certificate of sale, but you need the title for it to be officially in your name.
Unfortunately, during those extra days, the person who owned the property originally may decide to contest it. If they hand over the money that they owed, the title could revert back to the original owner since it's not in your name yet. For this reason, you should never begin doing any work on your new home until you have the title.
References
Writer Bio
Stephanie Faris has written about finance for entrepreneurs and marketing firms since 2013. She spent nearly a year as a ghostwriter for a credit card processing service and has ghostwritten about finance for numerous marketing firms and entrepreneurs. Her work has appeared on The Motley Fool, MoneyGeek, Ecommerce Insiders, GoBankingRates, and ThriveBy30.