Real Estate Investing in Low-Income Neighborhoods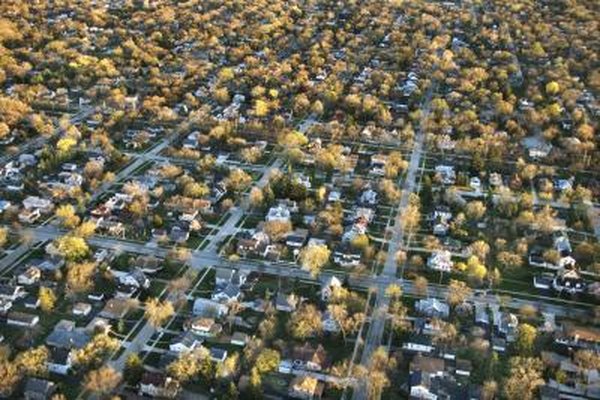 Investing in real estate is a challenging endeavor, requiring upfront planning and ongoing management. Investing in a low-income neighborhood carries special difficulties but also affords opportunities for investors that might not exist in middle-class or upper-class neighborhoods. Real estate investing in low-income neighborhoods can be profitable and wise under the right conditions.
Strategy to Profit
Investing in real estate in a low-income neighborhood follows many of the same procedures as investing anywhere. You want a property that will be appealing to tenants and will rise in value between the time you buy and the time you eventually sell. Low-income neighborhoods that are the targets of government improvement projects are most likely to see their real estate prices rise, as new businesses, municipal improvements and a subsequent rise in demand for housing occur.
Selecting a Property
Appealing properties, even for low-income tenants, are those that are clean and conveniently located. Inspect any piece of real estate thoroughly. Consider the prior owners and investigate the cost of repairs that will be needed in the near future. Access to local businesses, such as grocery stores and clothing stores, is essential if your prospective tenants are likely to not own cars. This also places added importance on access to public transit. Consult crime maps published by your local police department to select real estate that is located in a relatively safe neighborhood, and advertise this fact to prospective tenants.
Financing
Financing investment real estate in a low-income neighborhood offers options that might not apply in other situations. Foreclosures and short sales occur when prior owners can't pay their mortgages, which may happen in a low-income neighborhood, creating new opportunities for investors. Low home prices in an undesirable neighborhood can also mean affording a larger down payment for instant equity and a lower monthly mortgage payment, saving you money on interest. Let lenders know if you plan to work with a public housing authority to offer subsidized rent to your tenants.
Managing the Property and Tenants
Managing a low-income property to protect your investment involves working with tenants and keeping the property itself in good condition. For tenants you should offer information about rent control, housing assistance and budgeting to help them stay up-to-date on their rent. Use a standard lease agreement and be prepared to take action when tenants don't pay. Consider both the security of the property and what will add the most value. For example, in a low-income neighborhood a security fence and door might be much more valuable than an upgraded kitchen. Even if you plan not to offer luxury accommodations, make sure every part of the property is up to code before you take on any tenants.