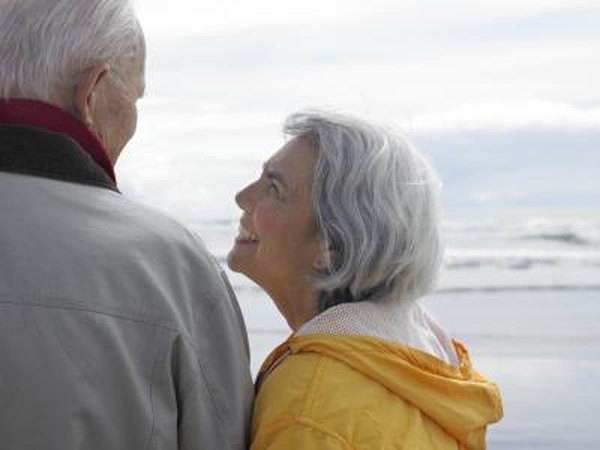 It's no secret that droves of New Jersey residents pack their bags and head south to Florida when retirement time finally comes around. It doesn't snow in Florida, and retirees can remain within a short plane flight of the loved ones they leave behind. If you're looking to make your retirement income stretch further, Florida has the advantage over New Jersey as well.
Real Estate
New Jersey imposes some of the highest property tax rates in the country, so you'll do a bit better in Florida. Although Florida levies taxes on the full assessed value of your property, the state offers at least 10 different programs for exemptions, discounts and deferrals for residents who qualify. By contrast, New Jersey offers a homestead credit of up to $1,000 depending on your income and the amount of tax you paid, and if you're a senior citizen and your taxes go up, the state will reimburse you the difference. Median housing prices in New Jersey ranged from $228,000 in Atlantic City to $375,900 in the New York metro area in 2012. You can buy more cheaply in Florida: the median home price for the Miami area was $206,000 in 2012, and it was even lower on the Gulf Coast: $154,000 in the Tampa area.
Purchases
There's a difference of only 1 percent between New Jersey's sales tax and that in Florida. Florida's is lower, at 6 percent, but New Jersey might have the edge here anyway. Only certain municipalities in two counties – Atlantic and Cape May – levy additional sales taxes on some items. When you add in Florida's county and municipal taxes, on the other hand, the overall rate can jump as high as 9.5 percent. Both states exempt food, prescription drugs and over-the-counter drugs, but New Jersey takes it a step further: you can buy clothing and footwear without paying a sales tax as well.
Income Taxes
Florida has no income tax, either on regular earnings or retirement benefits. New Jersey taxes income at a top rate of 8.97 percent, but this applies only to incomes over $500,000. Incomes up to $20,000 are only taxed at the rate of 1.4 percent. Neither state taxes Social Security. New Jersey taxes pensions, some IRA withdrawals, and annuity payments, but if you're over 62, some of your pension income might be excluded from taxation provided it doesn't top $100,000 a year.
Death Taxes
If you're worried about your estate, you're definitely better off dying in Florida. The state has neither an estate tax nor an inheritance tax, whereas New Jersey levies both. Inheritance taxes run from 11 percent to 16 percent of the value of individual bequests, although spouses, parents, children, grandchildren and grandparents don't have to pay it. Stepchildren, domestic partners and civil union partners are exempt as well. The New Jersey estate tax kicks in for estates valued at more than $675,000, a far cry from the federal estate tax exemption of $5.25 million in 2013. New Jersey's estate tax is payable in addition to the federal tax if your estate is subject to both.
Photo Credits
Siri Stafford/Lifesize/Getty Images