How to Save Money on New Driver Teenager Auto Insurance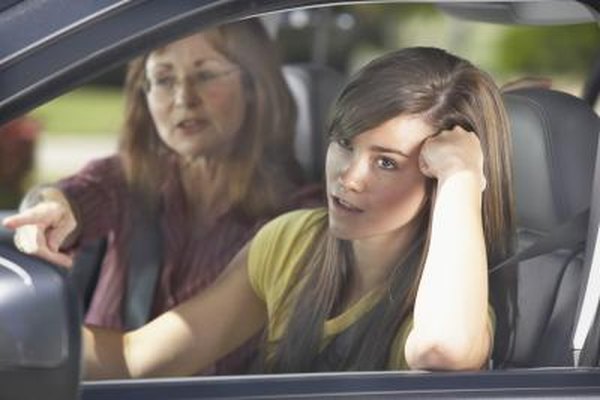 Motor vehicle accidents are the leading cause of death among teenagers in the United States, according to the U.S. Centers for Disease Control and Prevention. Teen drivers are responsible from about 30 percent of motor vehicle injuries, even though teens only make up around 14 percent of the population. These statistics are reflected by the high cost of auto insurance for teens, but you can take some steps to save some money on your teen's policy.
Step

1
Make sure your teen is properly trained. Your auto insurance company might offer a discount if your teen has completed a qualifying driver training program. Not all insurance companies offer such a discount, and discounts can vary from company to company, so you might need to shop around to find a company that offers the best discount.
Step

2
Encourage your teen to hit the books. Insurance companies typically offer a good student discount for teens who maintain a B average in school, attain the Dean's list or achieve a similar honor. Discounts vary by insurance company and state. This discount might not be an automatic feature, so ask your agent if your child qualifies.
Step

3
Put your teen driver on your insurance policy. Auto insurance companies typically offer multicar discounts, so having your teen's car on your policy will qualify for the discounted rate.
Step

4
Choose a safe car for your teen to drive. A high-performance muscle car might appeal to your teen, but your insurance premiums will skyrocket. Insurance rates are significantly lower for cars with high safety ratings that are equipped with safety devices.
Step

5
Increase your deductibles and drop some of your coverage. You must carry liability insurance, and some states require uninsured motorist coverage, but comprehensive and collision are optional. You can reduce the amount of your premiums by assuming more of the risk. Just make sure you have the money in savings to cover the cost of a noncovered accident.
Step

6
Encourage your teen to drive safely and abide by all traffic laws. Teens tend to get into more accidents when other teens are passengers in the car, and more than half of teen deaths from auto accidents happen at night on weekends. Moving violations can negate good student discounts, and an at-fault accident will probably be reflected in higher premiums. Good driving habits can help keep your teenager safe and your auto insurance premiums low.
References
Resources
Writer Bio
Mike Parker is a full-time writer, publisher and independent businessman. His background includes a career as an investments broker with such NYSE member firms as Edward Jones & Company, AG Edwards & Sons and Dean Witter. He helped launch DiscoverCard as one of the company's first merchant sales reps.