What Does Senior Life Insurance Offer You?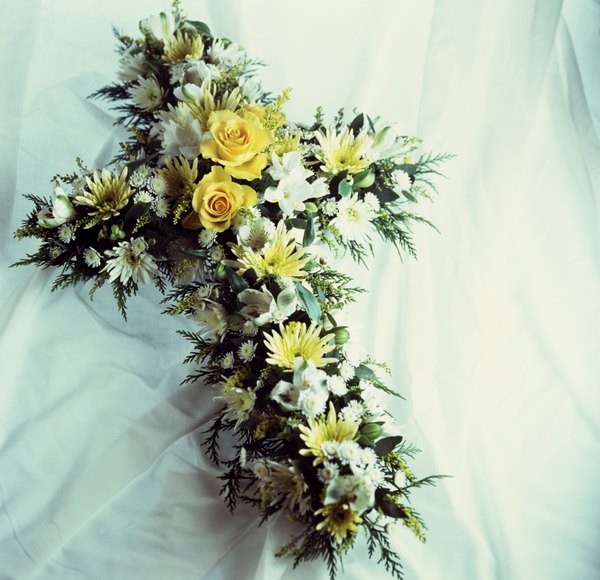 Senior life, guaranteed life, funeral insurance and burial policies all mean essentially the same thing. Each is a type of whole life insurance that covers end-of-life expenses. Investing in senior life insurance isn't the same as investing in traditional whole life insurance. Senior life insurance plans work according to a different set of rules and offer different benefits.
Tip
Senior life insurance offers additional coverage to help pay future end-of-life expenses.
Purpose of Senior Life Insurance
Your family can expect to pay about $7,360 for a traditional funeral according to the most recent data from the National Funeral Directors Association. Life insurance is cheapest for those in their twenties, and premiums start to increase after 30. Senior life insurance is available to those who are being denied life insurance policies due to age. These policies can be used for paying funeral costs, hospitals bills and other end-of-life expenses. Although insurers may request a copy of an applicant's medical records, senior life insurance most often offers guaranteed acceptance as it doesn't require a health exam as part of the application process.
Senior Life Insurance Benefits
Senior life insurance has guaranteed premiums that make it a low investment risk. Because it's a form of whole life insurance, it also has cash value that builds over time, but the low face value of the policy means its cash value is minimal. This leads many to purchase a senior life policy not for the benefits it provides personally but rather for the benefits it provides family members. Senior life pays out quickly and can ease the financial burden your family may experience when paying for your funeral and other final expenses before your estate is settled.
Disadvantages of Senior Life Insurance
Family members don't always receive the full face value of the policy. This happens because senior life insurance has a waiting period that applies to anyone not in excellent health at the time the application is submitted. Depending on the current health status of the applicant, there can be a graded waiting period of 24 months or more, during which time the payout slowly increases until it reaches its full face value.
Payout Considerations
Most senior life insurance policies immediately pay the full face value if you die due to injuries received in an accident, regardless of whether you qualify for full face value payment or are subject to a waiting period. If you should die before a graded or full waiting period ends, most insurers will return to your family all monthly premium payments you paid. Some insurers may also add and pay any accrued interest your payments gained during the waiting period.
Cost of Senior Life Insurance
Burial policies can actually cost less than term life insurance, although both cost more the older you get. The Retirement Living Information Center has reported that a woman at age 70 can expect to pay $774 - $2,230 per year for a burial policy, but she can expect to pay $982 to $4,756 per year for a regular term life policy, and she'll probably need to submit to a medical exam. It's important to note, however, that these types of insurance don't provide the same coverage.
References
Writer Bio
Based in Green Bay, Wisc., Jackie Lohrey has been writing professionally since 2009. In addition to writing web content and training manuals for small business clients and nonprofit organizations, including ERA Realtors and the Bay Area Humane Society, Lohrey also works as a finance data analyst for a global business outsourcing company.