How to Set Up an Escrow Account for a Private Property Transaction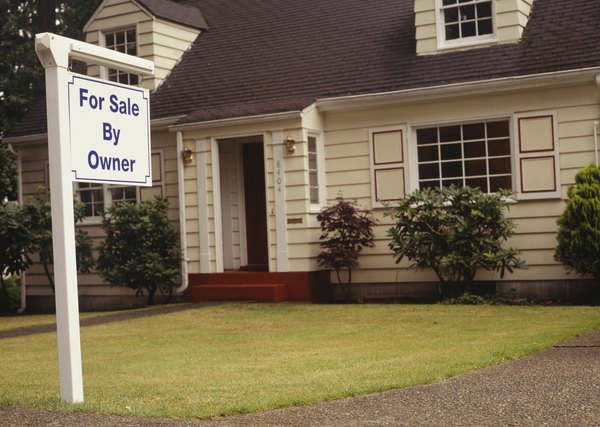 If you purchase a home through a real estate agent, escrow will generally be handled behind the scenes, with funds put in place to ensure everyone gets paid what they're owed. An escrow account is set up through a financial institution to hold all of these funds until a designated time. This ensures the buyers, sellers and everyone working to process the transaction gets paid. However, realtors aren't the only ones who can set up escrow. With the right third-party service, you can set up an escrow account to hold funds when you're buying or selling property yourself, whether it's a home, car or other large purchase.
Tip
Before you can set up an escrow account, you'll need a legal agreement, signed by all concerned parties, spelling out in detail the terms of the escrow account. Once you have that in place, you can begin shopping for an escrow service to help manage the transaction.
Working with Financial Institutions
If you're interested in escrow services, your first stop should be with your own financial institution. As an existing customer, they're most likely to be willing to work with you on setting up an account. Also, since you already bank there, it will be easier to transfer funds back and forth throughout the transaction. You may find, however, that although a bank works with escrow services as part of the mortgage-closing process, it is not something they offer individually.
If your own lender doesn't offer escrow services, there are likely other local financial institutions that do. Check with credit unions, as well as banks. Large, corporate lenders are more likely to offer a service like this than small, community banks. U.S. Bank provides comprehensive mortgage services that include an escrow agent to review paperwork and facilitate funds transfers as directed.
However, as with many banks, this service is geared toward business customers, so you may have difficulty if you're just a one-time seller. First Interstate Bank sets up escrow accounts for private-party transactions. There are fees associated with opening the account, servicing payments and closing the account.
Exploring Local Options
If your major sale is a home, chances are you'll end up using a local title company. This will help you ensure you have all of the paperwork you need to avoid problems throughout the sale. A title and escrow company goes beyond merely holding the money. It also conducts title searches to make sure the transfer is legal and takes out title insurance for the property. This type of company will hold all funds necessary for closing in an account and ensure those monies are used as they were intended.
Among the funds that will be held in escrow during a home purchase will be the down payment the buyer paid when he put a contract on the house, any funds the seller is paying the buyer in lieu of making requested repairs on the property and any money for taxes or insurance that the mortgage lender wants set aside. These funds will be settled at closing, at which point an escrow account will be set up with the lender for the buyer's property taxes and homeowners insurance.
Evaluating Online Services
If you're selling a house, the internet won't be an option. For everything else, though, there are online escrow services. Sites like Escrow.com hold funds for buyers and sellers and even offer software that can build escrow into a website. To get started, you'll strike an agreement with the buyer on the platform, the buyer will submit payment to that platform, you'll deliver the good or services and the buyer will approve the transaction as complete. At that point, the escrow service will release the buyer's payment to you.
Another option is to use a site like eBay or Etsy, where buyer-seller protection is built into the service. Cars in particular are popular purchases on eBay but buying a vehicle online can be risky. eBay automatically offers Vehicle Purchase Protection, which covers up to $50,000 if the seller fails to deliver the item, doesn't provide the title or doesn't disclose defects.
Both eBay and Etsy have a dispute program for any purchase on their platform. If the buyer isn't happy, he can file a complaint and have the platform manage arbitration. While this type of mediation isn't foolproof, sellers at least know they'll get their money while buyers have recourse against devious sellers.
References
Writer Bio
Stephanie Faris has written about finance for entrepreneurs and marketing firms since 2013. She spent nearly a year as a ghostwriter for a credit card processing service and has ghostwritten about finance for numerous marketing firms and entrepreneurs. Her work has appeared on The Motley Fool, MoneyGeek, Ecommerce Insiders, GoBankingRates, and ThriveBy30.