Stock Market Tracking Tools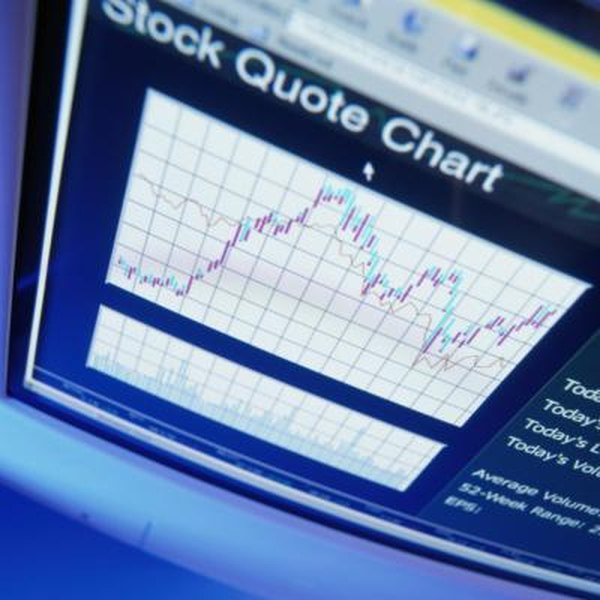 Successful stock market investors expect the unexpected and understand that even the impossible can be a distinct possibility. World events, changing economic conditions and competition are just a few of the factors that either singly or in combination work to create this uncertainty, underscoring the need for active performance monitoring. Assisting you in this endeavor are a number of stock market tracking tools that help you determine when to get in, when to make adjustments and when to get out of the stock market.
Web-based Software
Web-based tracking tools form the largest and most common category. Within this category are full-feature software programs you can use for portfolio management. While specific tools vary depending on the program, most offer a spreadsheet-style user interface, streaming updates, analysis tools, charting options and a watch list feature for tracking stocks you may want to purchase in the future. Some of the available options include TMX Money and Grism, both free programs, and StockMarketEye, a fee-based program that as of the publication date offers a free "try before you buy" period.
Web-based Service Tools
Sites such as Nasdaq offer information on a single stock, or you can track your entire portfolio. Nasdaq offers a menu of free tools, including alerts you can customize and receive via email, a logo ticker you can add to your computer menu bar, heat maps that track the performance of up to 100 securities and a browser plug-in that displays real-time stock quotes. In addition, Nasdaq offers a free portfolio tracker that works much like web-based software programs except that, rather than downloading the program, you create an account and the program remains on the site.
Electronic
Add television and radio to your arsenal of stock market tracking tools for both real-time and time-delay tracking. Stations such as CNN, CNBC and Bloomberg TV are a good source for tracking specific stocks as well as for getting information on factors affecting the market in general. Although not all the information in this medium is in real time, tickers running along the bottom of your television screen do provide real-time updates. Bloomberg also operates several business-only radio programs that focus on providing both general market and company-specific information.
Print
Find stock market information and performance assessments in the financial section of a major newspaper such as the "Wall Street Journal" and in print publications such as "Smart Money." Keep in mind, however, that while tracking specific stocks using print tools is useful for general information and for spotting trends, the information is only as current as of the last publication date. If the information you get from these sources is critical, make sure to verify it before making a buy, hold or sell decision.
References
Writer Bio
Based in Green Bay, Wisc., Jackie Lohrey has been writing professionally since 2009. In addition to writing web content and training manuals for small business clients and nonprofit organizations, including ERA Realtors and the Bay Area Humane Society, Lohrey also works as a finance data analyst for a global business outsourcing company.