Tips on How to Start Out Investing in Rental Property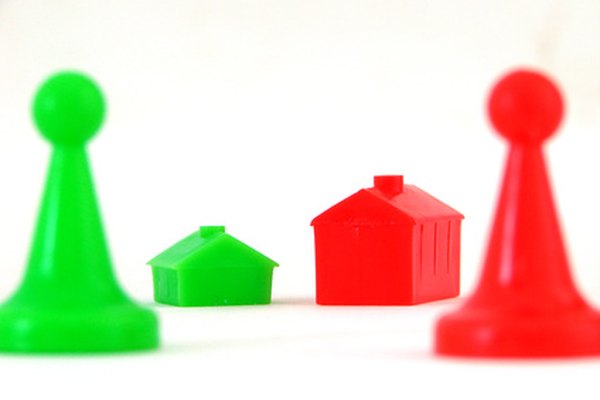 When you buy rental property, you are buying a business. Just like any business, the property has costs for purchasing and maintenance, and the property provides income. The purpose of all business assets is to provide income. Before you buy rental property, you need to be familiar with how much you will need to invest as well as projected returns on your investment.
Bank Rules
When you approach a bank to finance your first property, you must learn the rules regarding down payments. Most banks require a 20 percent to 25 percent down payment on a property. That percentage is based on the sales price of the property. For example, if you buy a rental house worth $100,000, you would need to put down $20,000 to $25,000 as a down payment, depending on the lender. If you don't have the cash yourself, you can take on a partner or partners to make the down payment in exchange for part of the income from the property. The term of the mortgage depends on the bank and the property.
Income
You make money on rental property by renting it to tenants. You should check similar properties in the immediate area to get an idea of what properties rent for. If your property is a single-family home, it might take a little more time to check the rental rates for other single-family homes in your area. If your property is part of an apartment or condominium complex, you can find out prevailing rental rates from the complex's management company. In either case, you will want to ensure that you charge enough rent to cover your expenses and turn a decent profit.
Expenses
Before you commit to buying a rental property, you should fully understand all of the expenses associated with being a landlord. You have repairs, maintenance, insurance, debt service and the occasional non-paying tenant to worry about. Talk to experienced landlords about the expenses of owning a property. This will give you a realistic picture of what it will cost you to keep your property operating.
Investment Groups
Consider forming an investment group for your first rental property. Each member of the group can pitch in on the down payment. In addition, the group can check each other on research and due diligence to make sure you have considered all the advantages and disadvantages of a particular property. You will benefit from the pooled expertise as you learn the ins and outs of real estate investing. Advertise for group members online and in classified ads. Include specific requirements, such as the investment money each person must contribute, the background knowledge required, and the amount of experience preferred.
References
Writer Bio
Kevin Johnston writes for Ameriprise Financial, the Rutgers University MBA Program and Evan Carmichael. He has written about business, marketing, finance, sales and investing for publications such as "The New York Daily News," "Business Age" and "Nation's Business." He is an instructional designer with credits for companies such as ADP, Standard and Poor's and Bank of America.