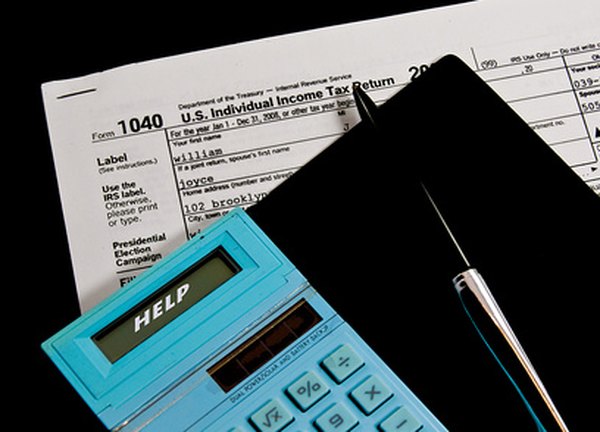 Alimony payments are usually deductible, but the Internal Revenue Service doesn't give up this tax perk easily. You'll have to work for it a little by filing Form 1040 – the "long form" – to claim the deduction at tax time. It's not available on Forms 1040A or 1040EZ. There are a few other requirements for claiming alimony as a tax deduction as well.
Form 1040
Just because you file Form 1040, this doesn't mean you must itemize your deductions. You can take the standard deduction for your filing status when you file the long form if you don't have sufficient other deductions to make itemizing worthwhile. Alimony is not included on Schedule A – the list of your other deductible expenses – so you don't have to itemize in order to claim it. The pertinent difference between Forms 1040, 1040A and 1040EZ is that only the 1040 includes spaces for an alimony deduction – Lines 31a and 31b. They appear on the front page of your return to calculate your adjusted gross income. Line 31a asks for the amount of alimony you paid, and Line 31b requires that you enter your ex's Social Security number so the IRS can be sure she reports it as income.
Qualifying Factors
Before you fill in Lines 31a and 31b on your long form, you must meet a few other requirements. Alimony is only deductible if your divorce decree or separation agreement specifically orders you to pay it. You can't live in the same household with your spouse if you're separated but not technically divorced yet. Typically, you must make the payments directly to your ex, unless your decree or agreement provides otherwise. For example, if your decree states that you must pay your ex's rent or mortgage all year as a form of alimony support, you can deduct these payments. If your document doesn't contain specific language to this effect, however, you can't. Property settlement payments aren't deductible – they're not support.
Alimony Vs. Child Support
Child support is tax-neutral; it's neither deductible to the parent paying it, nor taxable to the parent receiving it on behalf of the children. Therefore, the IRS wants to be sure that your decree or agreement doesn't misrepresent child support as alimony, allowing you to claim a deduction you're not really entitled to. Ideally, if you're also paying child support, your decree is very specific regarding how much of your payments are intended for your children, and how much of them are for your spouse's support. If your decree is vague, the IRS will err on the side of calling all or some of your payments child support and you could lose the deduction. The IRS might also disallow you the alimony deduction if your payments are scheduled to suddenly stop at a point when you would no longer be required to pay child support, such as when your child reaches the age of majority or achieves some other milestone that means he no longer needs your financial support.
Recapture Rule
Just as the IRS doesn't want you claiming your non-deductible child support payments as deductible alimony, it also has rules in place to make sure you don't deduct property settlement payments. Property settlements usually take place within a year or so after a divorce, so the IRS has a recapture rule to make sure your payments to your ex don't include property settlement. The rule requires that your alimony payments remain consistent during the first three years after your divorce. If you make a $50,000 settlement payment to your ex in the first year and call it alimony, and if you then only pay her $15,000 in the second and third years, the IRS will force you to claim the difference as taxable income in the third year, compensating for the deduction. The recapture rule applies when the average of your second two years' of alimony payments, plus $15,000, doesn't at least equal what you paid in the first year. You could also trigger a recapture penalty if what you pay in the second year is $15,000 or more than you pay in the third year.