What Is Schedule E in Taxation?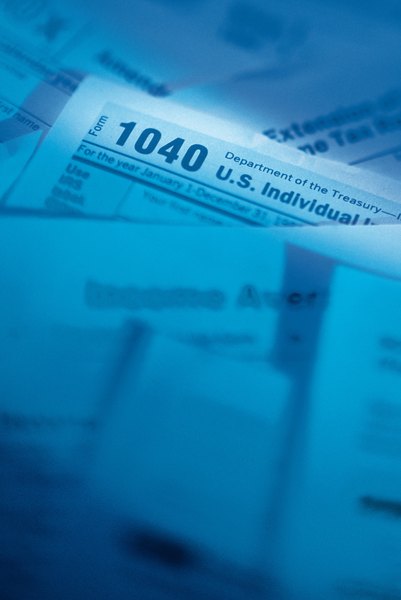 IRS Schedule E, Supplemental Income and Loss, is for reporting income or losses from real estate rentals, royalties, partnerships, S corporations, estates, trusts and interests in real estate mortgage investment conduits. A real estate mortgage investment conduit is a security made up of mortgage loans that issue mortgage-backed securities. Real estate mortgage investment conduits are exempt from federal taxes, but investors are not. The IRS will accept your own schedule in lieu of a Schedule E form as long as it follows tax Schedule E's format.
Tip
Schedule E is used to report passive income to the IRS.
When to File Schedule E
Probably the most common reason for including an IRS Schedule E with your tax return is that you own property that you rent out. You might also use a Schedule E to report income from renting a room in your house. This money is income and is therefore taxable. You only have to fill out the sections on the form that pertain to the type of income you earned or the type of loss you incurred.
Whether you use the IRS's Schedule E form or your own, be sure to enclose loss figures in parentheses. Then attach tax Schedule E or your schedule to Form 1040 and send them in. Complete Schedule E instructions can be found on the IRS's website.
IRS Schedule E Filing Exceptions
Owning rental property on the side and renting it out is not usually considered self-employment by the IRS. But if you provide services to your tenants or manage several rental properties as your main business, the IRS might consider it self-employment. In this case, you would need to file a Schedule C instead of Schedule E.
There are limits to the amount of losses you can report on tax Schedule E. Deductible losses are limited to the amount of money you are at risk for. For example, if you invested $60,000 in an S corporation or a partnership and it lost $75,000 during the tax year, you cannot take a $75,000 deduction. The maximum you could deduct is the $60,000 you invested and lost.
Deductible losses may be further limited by the IRS's Passive Activity and At-Risk Rules. These rules are meant to keep investors from deducting losses from business pursuits that they didn't actively participate in. If you're unsure about whether you should use tax Schedule E or C, or whether passive activity rules apply to you, check with a licensed tax professional.
Rental Property Deductions for 2018
The Tax Cuts and Jobs Act, which went into effect for the 2018 tax year, has some great news for landlords who own and rent residential property. It's a new and substantial tax deduction. If your rental activity qualifies as a business – and most do – you may be able to deduct an amount equal to 20 percent of the income you get from your rental.
This is in addition to all of the usual rental property deductions you might be able to take for upkeep of your rental property. If you're entitled to the new deduction, you can take it whether or not you itemize.
The IRS has a new Form 1040 starting with tax year 2018, and you will need to enter the new deduction on line 9. It's a complicated deduction but worth bringing up to your professional tax preparer. If you qualify for it, you might just be taxed on 80 percent of your rental property income.
References
Writer Bio
LeDona Withaar has over 20 years' experience as a securities industry professional and finance manager. She was an auditor for the National Association of Securities Dealers, a compliance manager for UNX, Inc. and a securities compliance specialist at Capital Group. She has an MBA from Simmons College in Boston, Massachusetts and a BA from Mills College in Oakland, California. She has done volunteer work in corporate development for nonprofit organizations such as the Boston Symphony Orchestra. She currently owns and operates her own small business in addition to writing for business and financial publications such as Budgeting the Nest, PocketSense and Zacks.