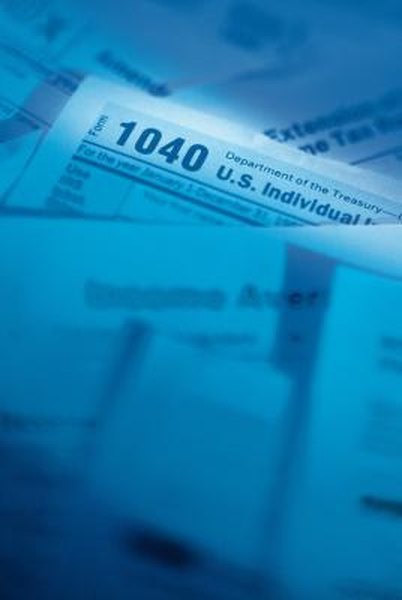 The Internal Revenue Service provides dozens of tax schedules to report income and losses from every conceivable type of business or financial activity. If your business or financial activities require a special tax schedule, you fill in the appropriate information and attach the schedule to your tax return. Among the special tax schedules is Schedule E.
Schedule E Defined
You file Schedule E to report supplemental income and losses that don't readily fit into the common run of income sources. This schedule, as of the 2012 tax year, covers income or losses from rental real estate, royalties, partnerships, S corporations, estates, trusts and residual interests in a Real Estate Mortgage Investment Conduit or REMIC.
Rents and Royalties
Part 1 of Schedule E is for reporting your income or losses from real estate you rent out to others. You take deductions on this form for costs of maintaining the rental property, but if you are in the real estate business and actively managed the rental properties, you don't use this form. Instead you report your rental income on Schedule C. You also report on Part 1 of Schedule E any royalties you receive from oil, gas or mineral property or from copyrights and patents. You don't use this schedule for royalties or other income you receive from artistic or literary works you created and sold; that income is reported on Schedule C.
Partnership Income
You use Part 2 of Schedule E to report income or losses as a member of a joint venture or partnership or as a shareholder in an S corporation. You should receive a Schedule K-1 from the joint venture, partnership or S corporation listing your share of the entity's income or losses. If your joint venture, partnership or S corporation engaged in several different business activities, you will get a separate K-1 for each business activity.
Estates and Trusts
If you received income from an estate or trust, you report it on Part 3 of Schedule E. The fiduciary of the estate or trust will send you a Schedule K-1 listing your income. If the estate or trust suffered financial losses, you will get a K-1 from the fiduciary giving your share of the loss, which you claim on Part 3 of Schedule E.
REMIC and Summary
Part 4 of Schedule E is for reporting income or loss from a residual interest in a Real Estate Mortgage Interest Conduit or REMIC. A REMIC is a type of multiclass derivative security ultimately backed by cash flows from residential mortgages. A REMIC residual interest holder receives whatever cash is left over after all higher classes have been paid. Part 5 of Schedule E is for summing up the income or losses reported in Parts 1 through 4 to produce a final net income or loss figure.
Photo Credits
Comstock/Comstock/Getty Images