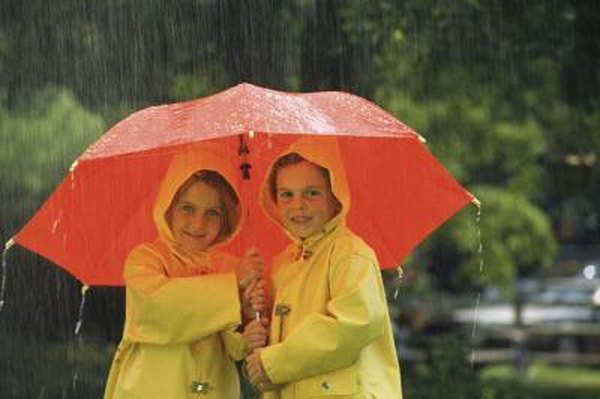 The National Flood Insurance Program covers flooding from heavy rains. While heavy rains are covered if they cause flooding, often it is rivers and streams rising over crest level, clogged storm drains or ground too saturated to accept any more water that eventually floods homes. Don't wait till you see rising water, as there is a standard 30-day waiting period for coverage, unless flood insurance is a mortgage loan requirement.
What Is Covered
Flooding from heavy rains that cause "direct physical losses" are covered by the National Flood Insurance Program, NFIP. If heavy rains cause damage from flood-related erosion from storms, flash floods, flood-induced mud flows or excessive tidal surges, your building is covered. However, flood insurance includes limited coverage for basements or finished areas below the lowest living floor. Coverage is limited to "equipment necessary to the habitability of the building." This includes utility connections, sump pumps, well water tanks, furnaces, clothes washers and dryers, freezers and air conditioners.
What's Not Covered
While flood insurance covers damage from heavy rains, this protection is confined to the building itself, including the foundation components. However, there is no coverage for additional items, such as retaining walls, fences, walkways, decks, driveways or patios. For valuable personal property, including art, rare books, expensive jewelry, fur coats or business equipment, coverage is limited to $2,500 total. You'll need a special coverage or specific policy riders to protect these items. Finally, flood insurance offers no coverage for buildings, like boat houses, built entirely over water.
Heavy Rain Events
Heavy rains can also create flood damage indirectly. For example, ice jams that develop in cold climates that can prevent rainwater from dispersing properly, causing flood conditions. Another all-to-common condition, generated by heavy rains and rising temperatures, is what flood insurance calls "rapid snowmelt." Heavy rain on top of packed snow followed by above freezing temperatures can create land-based floods that are covered.
Flash Floods
According to the official website of the National Flood Insurance Program, the number one weather-related "killer" in the United States is flash flood events. The national insurance website defines flash floods as "a rapid flooding of low-lying areas in less than six hours." In most cases, they are caused by heavy rains, particularly from thunderstorms, or man-made structure collapses, such as levees and dams, as a result of heavy rain. These losses are also covered by flood insurance.
Deductibles
Standard flood insurance covers heavy rains, but comes with standard $500 and $750 deductibles. To save money on premiums, you can select a higher deductible amount if you wish. Heavy rain losses and deductibles become more important if you have actual cash value coverage and not replacement cost protection. Replacement cost coverage is available for single family principal residences only. Actual cash value coverage reimburses only what the property or items were worth on the day of the damage. In addition to your deductible amount, you may need even more cash to replace damaged property completely.
Photo Credits
Jupiterimages/liquidlibrary/Getty Images