How to Add a Co-Borrower to Refinance a Home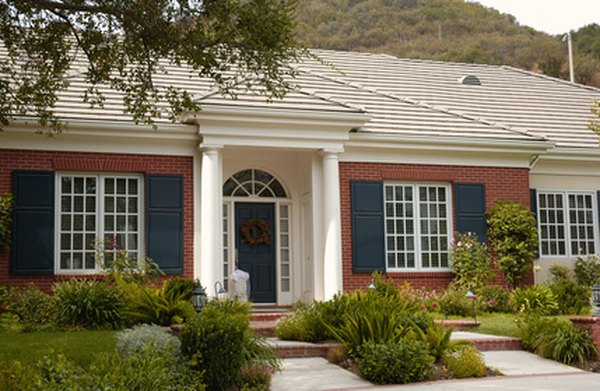 Refinancing is a way to create a new mortgage loan and lower your interest rate and house payment. When refinancing a mortgage, your lender reassesses your income and debt. Any change to your financial situation, such as a decrease in income, an increase in debt or a lower credit score, can affect your ability to refinance. If you fear that a lender will deny your refinancing application, you can add a co-borrower to the new mortgage. This can include anyone but typically would include a family member such as a spouse, parent or sibling.
Obtain Permission from Co-Borrower
Ask your preferred co-borrower if she is willing to put her name on the refinance application. Make sure she understands that she is responsible for ensuring the loan payments are made on time and in full, or her credit score will suffer. Explain the distinction between a co-borrower and a cosigner to her -- if she were simply a cosigner, her name would not appear on the title and she would not have ownership in the property. But as a co-borrower, her name will appear on the title because she will have ownership in the property.
Check Both Credit Reports
Check your credit report as well as your co-borrower's report to see whether you qualify for a refinance. Many lenders require a minimum credit score of 680. You can order credit reports from AnnualCreditReport.com and credit scores from Myfico.com.
Obtain and Complete an Application
Contact your existing lender or a new lender to get an application to refinance the home loan. When you fill out the application you will be asked to include your information and the co-borrower's information. This includes both names, telephone numbers and Social Security numbers. Be sure both of you sign the mortgage refinance application.
Submit Application and Supporting Documents
Submit the application along with other information the lender requests. This typically includes copies of your tax returns, bank statements and recent paycheck stubs. Since you're applying for a refinance with a co-borrower, the lender will take both incomes and employment records into consideration.
Schedule Closing Pending Loan Approval
Wait for the lender to make his decision. If he approves the loan, you and the co-borrower will need to attend the loan closing and sign the mortgage papers. If the lender approves the refinancing and adds the co-borrower to the home loan, both parties must attend the loan closing. You're both equally responsible for the loan, and closing on the loan is dependent on both signatures on the mortgage agreement. The new mortgage replaces the old loan.
References
Writer Bio
Valencia Higuera is a freelance writer from Chesapeake, Virginia. She has contributed content to print publications and online publications such as Sidestep.com, AOL Travel, Work.com and ABC Loan Guide. Higuera primarily works as a personal finance, travel and medical writer. She holds a Bachelor of Arts degree in English/journalism from Old Dominion University.