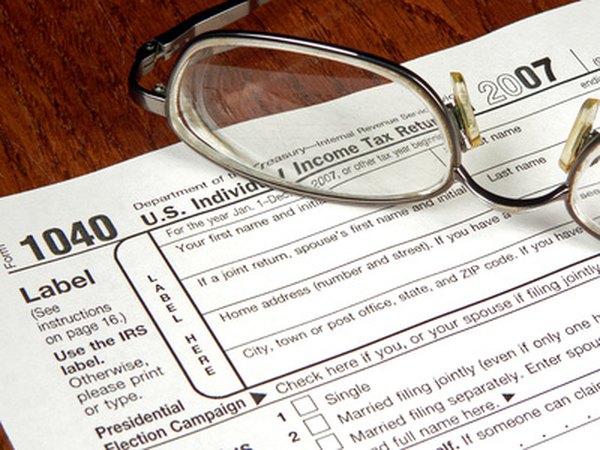 Taxpayers who run their own business or work as contractors and don't have federal taxes withheld from each paycheck are expected to make quarterly estimated tax payments. Any miscalculations along the way get squared up when the final tax return is filed, but the Internal Revenue Service expects at least 90 percent of the tax liability to be paid with estimated payments on Form 1040-ES. There are several ways to find out how much estimated tax has already been paid.
Step

1
Find the 1040-ES forms from the previous quarters. Many taxpayers use tax preparation software to generate the payment vouchers, and you can access the prior payments through the software. For accurate tax records you should be keeping copies of these forms and vouchers, anyway.
Step

2
Contact your accountant or tax preparer. If you don't file and pay quarterly taxes yourself, get copies of the forms and vouchers from the person who filed on your behalf.
Step

3
Check your credit card or bank statements. If the payments were made by either of these methods, your bank or credit card company will have the information. Most offer online access to transactions and statements. Electronic payments might show "U.S. Treasury" or "IRS" as the payee. If you paid by check you should have a record in the check register or, if you know the approximate date, you can find the check number and see the image online or order a paper copy. You might need to contact your bank for further assistance with a check.
Step

4
Log in to your other payment provider account if that is how you paid. The Treasury runs the Electronic Federal Tax Payment System, which allows free payments from a bank account to the IRS and includes detailed account information about prior payments, including which form and year each payment was credited to. Other third-party payment processors charge fees for each transaction, but they also have online account status information.
Step

5
Call the IRS. The number for individuals is 1-800-829-1040. For business returns, the number is 1-800-829-4933. Schedule C sole proprietors and 1099 contractors should call the individual taxpayer number. Agents can look up your payment history by Social Security number and even mail you a statement of all transactions for the relevant tax year.
Step

6
Request a transcript online. If you need information from a prior tax year, you can order a transcript from the IRS website. On the home page, click on "Filing," then select the proper category such as "Individual," "Self-Employed & Small Business," etc. Select "Order a Transcript." Choose "account transcript" from the "Order a Transcript" page to see all payments made and credited to your account for the year you select from the pull-down menu. You cannot order a transcript for the current tax year.
Items you will need
Copies of 1040-ES payment vouchers
Social Security Number
Check register
Tip
Sign up for the Electronic Federal Tax Payment System for a free and easy way to schedule future payments and have easy access to payment activity.

Always print copies of Form 1040-ES when you mail a check payment, and file with your other tax receipts for the year so the information will be easily accessible when filing your tax return.
Warning
The IRS penalizes taxpayers who underpay estimated tax payments. You need to pay 90 percent of your current year tax, or an amount equal to 100 percent of the previous year's tax, through timely estimated payments. File Form 2210 to determine whether you owe a penalty and how to calculate it.