How to Purchase an Indiana College Choice 529 Plan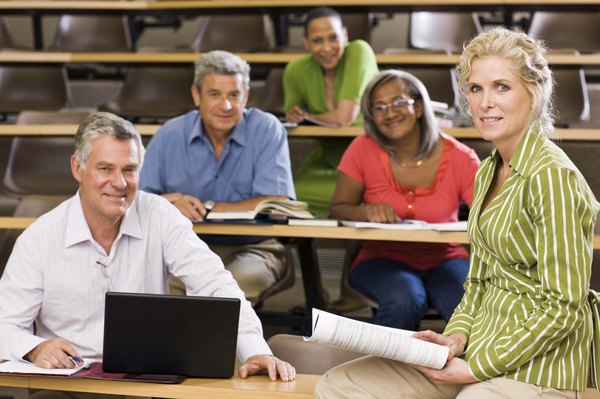 Whether you live in Indianapolis or Bloomington, expect your child's college tuition to be expensive. That's why the Hoosier State offers Indiana College Choice 529 plans, investment programs that jump-start college savings while offering tax benefits and flexible product options. You can send your brainiac to an Indiana university with 529 Plan savings or pack her bags for any accredited college, university or technical school in the Department of Education's network of institutions accepting student financial aid plan. Purchase an Indiana College Choice 529 plan online by visiting CollegeChoiceDirect.com and enrolling online or downloading the enrollment form that you'll submit by mail.
Tip
To open an Indiana College Choice Plan, you only need to make an initial investment of $10 (additional minimum contributions are also $10 each), and you won't pay an annual account maintenance fee if you're a resident of Indiana.
Compare 529 Plans
Learn about Indiana College Choice 529 financial backers to gain assurances that the fund will be around for the long haul. Sanctioned by the Indiana Education Savings Authority (IESA) and managed by Upromise Investments Inc., look further into the fund to discover prominent investment firms in management roles, as well. For example, Artio Global Management LLC, Vanguard, BlackRock Institutional Trust Company N.A., Columbia Management Advisors LLC, Sallie Mae Bank and T. Rowe Price stand behind this popular plan.
Research 529 Plan Options
Order a prospectus, disclosure statement and literature by calling 866-485-9415 or visiting the collegechoicedirect.com website. Review background material so you make an informed decision about the objectives, risks, charges and expenses associated with the Indiana College Choice 529 Plan. Explore up to 18 different plan options — as of this writing — each of which is based on the investing preferences and risk tolerance of investors.
Opening a 529 Plan Account
Open an account by contacting a licensed Indiana financial adviser prepared to walk you through the enrollment process. Ask questions about the 529 plan's pros and cons. Bring proof of U.S. citizenship, a Social Security card, permanent address plus a check for at least $10, since you can't invest without a cash deposit. Give your adviser information on the intended recipient of this Indiana College Choice 529 Plan, including his legal name and Social Security number. If a group of family members sets up the college savings account, each must provide valid ID.
Funding a 529 Plan Account
Make arrangements to contribute to your Indiana College Choice 529 Plan using any payment option available to you. While fund managers recommend an automatic electronic transfer from a savings or checking account amounting to at least $25 a month, you have more options. Make direct periodic contributions in any amount as frequently as you like, ask an employer to set up a monthly payroll deduction or mail checks to the Indiana fund on a regular or irregular timetable — as long as the account balance doesn't exceed $450,000 per beneficiary, the maximum allowable 529 account limit as of 2019.
Optimize with Rollovers and Deductions
Add rollovers from other Indiana 529 education plans to boost the value of your particular College Choice 529 Plan, in accordance with the fund's sanctioned transfer products and maximum contribution guidelines. Transfer the value of qualified Series EE or I U.S. Savings Bonds from Uniform Gift to Minor, UGift and UPromise education savings accounts, too. Maintain your 529 Plan as an asset as long as your child remains a qualified dependent. Take a 20 percent state income tax deduction, capped at $5,000 each year, when you file your taxes at year's end.
Tax Implication of 529 Plans
Acknowledge the impact on your personal federal and state income tax tab if your child decides not to go to college after setting up an Indiana College Choice 529 Plan — unless he dies, enrolls in the military or attends a military academy. That stated, "The Wall Street Journal" says there are creative ways to avoid a huge tax bill, such as transferring the cash to a new beneficiary — a family member also preparing to attend college, for example. There's no reason why you can't use the funds to go back to school in Indiana either.
References
Warnings
In January 2010, Indiana put a halt to transferring rollovers into into 529 accounts if the source of the funds happens to be another state's tuition program.
Writer Bio
Based in Chicago, Gail Cohen has been a professional writer for more than 30 years. She has authored and co-authored 14 books and penned hundreds of articles in consumer and trade publications, including the Illinois-based "Daily Herald" newspaper. Her newest book, "The Christmas Quilt," was published in December 2011.