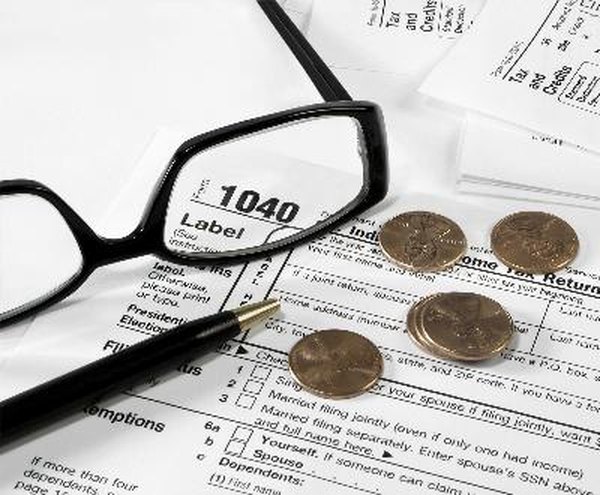 Many people dread the late winter and spring for one reason: it's tax season. The good news is that you can make your tax planning easier, less stressful and potentially less costly by doing a little advance homework. In addition to keeping your W2s in a safe place, avoid last-minute scrambles for Social Security information, investment statements and receipts by planning for next year now. Contact the IRS if your return will be late or you can't pay what you owe. Finally, if you're preparing your own return, make an appointment with a tax professional before you file.
Step

1
Prepare your income documentation. Completing your tax return will be difficult if not impossible if you don't have your financial information ready. Dedicate a folder or a file to the documents you'll need, which include income statements such as the W2, 1099, K-1 and business profit and loss statements. You'll receive statements such as W2s, K-1s and 1099s in the weeks following the new year. If you're a business owner, you'll need to provide your own profit and loss statement.
Step

2
Prepare your expense documentation. Unless you plan to take the standard deduction, you'll need to provide the IRS with documents that detail items such as mortgage interest, medical and charitable deductions, unreimbursed business expenses and retirement contributions. Because these deductions occur over the course of the year, save them in a separate file as they occur. If you can't find the original documents, review your bank and credit card statements and note any deductible expenses and contributions. Use these statements as your documentation. If you don't have documentation, you can't deduct it, so make sure the items you deduct accurately reflect your activity.
Step

3
Calculate taxes already paid if you send payments to the IRS on a quarterly basis instead of once a year.
Step

4
Calculate the gains on your investments. If you sold your home or investments such as stocks, you'll need to tell the IRS how much you made on each transaction as well as how long you owned the investment. Make a spreadsheet with the following columns: asset, date purchased, amount purchased, date sold, amount sold and profit/loss.
Step

5
Gather general information such as a copy of last year's tax return, social security numbers for you and your dependents, and bank account and routing numbers.
References
Tips
Make an appointment with a tax professional if you have a complicated return you don't feel confident filing yourself.
Warnings
If you aren't ready by the April 15 filing deadline, file for an extension. Failure to do so and ignoring the deadline will result in costly penalties and interest that adds up fast.
Writer Bio
Lisa Bigelow is an independent writer with prior professional experience in the finance and fitness industries. She also writes a well-regarded political commentary column published in Fairfield, New Haven and Westchester counties in the New York City metro area.