How Does a 403(b) Plan Pay Out?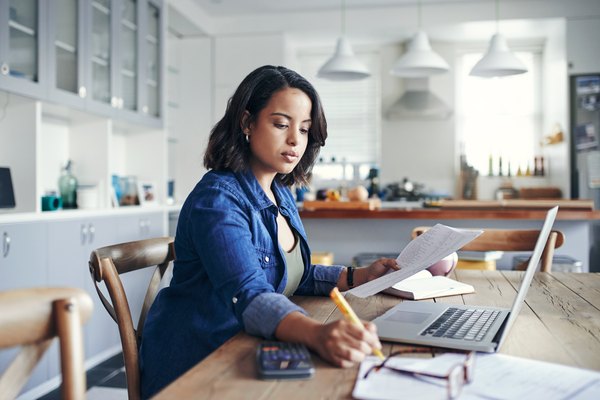 A 403(b) plan is a type of retirement plan mostly used by nonprofits, religious institutions and schools. It's similar to a 401(k) plan at other types of employers in that the money you put into the plan is taxed when you withdraw it after retirement, not in the year you earn it. You can begin taking withdrawals with no tax penalty at age 59 1/2, and you can roll money over to other retirement accounts after you leave the job with the 403(b) plan if you wish.
Understanding 403(b) Plans
A 403(b) plan is a type of retirement account that certain employers can set up for you. Like other types of investment accounts with numeric titles, it's named after the section of the federal tax code that defines how it works. It's often structured similarly to a 401(k) plan and offers some of the same rules about early withdrawals and taxation.
Specifically, the money you put into a 403(b) isn't taxed the year that you earn it. You'll normally contribute to your 403(b) plan through automatic deductions from your paycheck or direct deposit amount. Your withholding taxes will be calculated accordingly, so you get the tax savings immediately. Contributions will be reflected on your paystubs and end-of-year W-2 tax forms, as well as in statements and online information from the plan provider, so you can verify that your contribution information is correct.
Then, when you reach retirement age, you can begin withdrawing the accumulated funds from the 403(b), paying tax on the money as if you had earned it the year you withdrew it. That is a tax advantage for many people, particularly since they will earn less and thus pay tax at a lower rate after retirement compared to before.
403(b) and 401(k) Difference
One important difference between a 403(b) and a 401(k) is that the investment opportunities in a 403(b) plan are often a bit more restrictive than in a 401(k). You can generally only invest in annuities and mutual funds, not directly in securities like stocks or bonds. Historically, the plans invested in annuities designed to provide educators and nonprofit workers a steady stream of income after their retirement. With annuities somewhat out of favor in the investing community, most new 403(b) plans will invest in mutual funds.
Understanding 403(b) Retirement Plan Withdrawals
Like other types of retirement plans, 403(b) accounts are designed to pay for expenses after you stop working in old age, not to pay for expenses as you continue to work. If you withdraw money from a 403(b) account before age 59 1/2, you will usually face a 10 percent tax penalty as well as owing whatever tax you would normally owe on the money you withdraw as ordinary income.
To withdraw the money, work with the organization that maintains your 403(b) plan to figure out how to close or reduce your investments in the plan funds and transfer the money out of the account. Often you can directly transfer the money to a bank account or another investment account at a financial institution of your choice.
Early Withdrawal Exceptions
There are various exceptions for particular situations that might require 403(b) withdrawal options before you reach retirement age, such as if you become disabled or are in the military reserves and are called to active duty. In these cases, you'll generally be able to withdraw funds from the account without penalty but will still owe the usual tax on whatever you withdraw from the account, depending on your normal ordinary income tax rate. If you're not sure whether you're eligible for an exception to the tax penalty, contact a tax professional, such as an accountant or tax lawyer, or inquire with the Internal Revenue Service.
Required Minimum Distributions
Once you reach age 70 1/2, you must begin taking withdrawals from your 403(b) plans and other tax-deferred retirement accounts, such as 401(k) plans and individual retirement arrangements, or IRAs. The amount you must withdraw every year depends on your age and how much money is in your accounts. You may wish to begin withdrawals earlier for tax purposes, to effectively reduce the amount you must withdraw each year, or simply to have the money available to pay your expenses.
You can compute the mandatory withdrawal, known as a required minimum distribution, using a calculator and a table published by the IRS or you can use an online calculator tool. Make sure the table or tool is for the correct tax year and that you correctly include all of your money in tax-deferred accounts.
If you fail to make the required withdrawals each year, you can face a tax penalty of 50 percent of the difference between the amount you were required to withdraw and the amount you actually withdrew. Since this is more than you would normally owe in taxes if you withdrew the amount and placed it into an ordinary bank or investment account, you are generally better off taking the withdrawal and paying taxes on it than paying the 50 percent penalty tax.
Rollovers and Transfers
If you are under age 59 1/2 and leave your job where you have the 403(b) plan, you can usually keep the money in the plan until retirement or roll it over into another retirement plan at a new job or into an IRA. If you do this in a way that meets IRS requirements, you won't owe any tax based on the rollover. When you finally withdraw the money from the plan you rolled it into, you will owe tax as usual. You may wish to roll the money into a new plan to consolidate your funds at one institution or to avoid some 403(b) disadvantages, such as the inability to directly invest in particular stocks or bonds.
Also keep in mind that if you receive the money from your plan as part of a rollover, the IRS will generally require the financial institution that runs the plan to withhold 20 percent of the withdrawal to cover taxes. That means that you must make up that 20 percent with funds from other sources to complete the rollover, or you will be considered to have withdrawn it from the plan. You will normally get the withheld money back when you file taxes.
403(b) Transfer Deadlines and Penalties
You're usually best off working with the company that runs the accounts you are transferring from and to so that they can move the money directly without you taking possession of it. Taking possession of the money by receiving a check or a direct deposit into your bank account means you'll only have 60 days to move it to the new account without incurring a tax penalty. Make sure that the account where you're moving the money is a qualified retirement plan under IRS rules. Special circumstances apply when you move money from a 403(b) to a Roth IRA, and you'll likely have to pay tax on the transfer.
If you take longer than 60 days, you will be treated as having made an ordinary withdrawal and will owe the 10 percent penalty plus whatever tax you normally owe. The IRS allows certain exceptions for emergencies and bank errors.
References
Writer Bio
Steven Melendez is an independent journalist with a background in technology and business. He has written for a variety of business publications including Fast Company, the Wall Street Journal, Innovation Leader and Ad Age. He was awarded the Knight Foundation scholarship to Northwestern University's Medill School of Journalism.