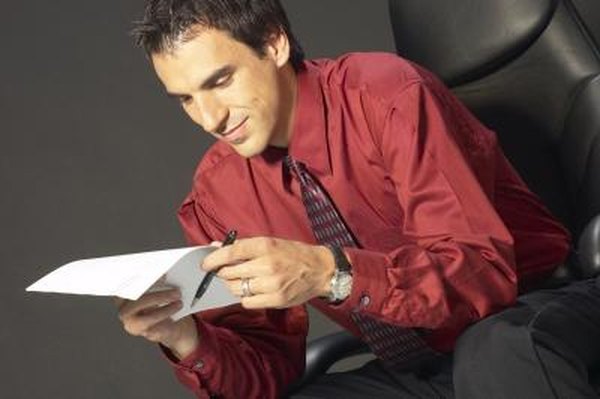 A living trust is commonly used to avoid probate and save your heirs time and expense in distributing your property when you pass away. An important part of creating and maintaining your living trust is placing your property in the trust. To do this, you must prepare the appropriate documents assigning your property to your trust. This applies to the personal items you own, as well as your home and any other real estate. The type of documents you need to assign your personal items to your trust depends on whether an item has a title document associated with it.
Step

1
Inventory all of your personal items that you want placed in your trust. Such items can include your household furniture and furnishing, clothing and personal effects. Also include in your inventory your bank accounts, stocks and bonds, vehicles and generally any items you own that are not real estate.
Step

2
Prepare and file a change of title document for all your vehicles as required by the motor vehicle department in your state. For example, the New York State Department of Motor Vehicles requires you to use form DTF-802 and indicate the transfer of title from your name to your trust as a gift.
Step

3
Prepare a certification of trust for all personal items held by a custodian or financial institution, such as bank accounts, stocks and bonds. The certification is a document that provides basic information about the trust and indicates that you have authority to change title to these items from your name to the trust name. In most situations, the financial institution or custodian has its own form of certification of trust for you to use.
Step

4
Prepare a general assignment for all of your property that does not have a title document associated it, such as your household furnishings and other personal items. The assignment document should state that "I hereby assign all of the property listed below to my trust," and set forth a complete list of all of your personal items. Attached the completed assignment to the back of your trust document.
Tip
You should consider using the services of an experienced estate planning attorney to prepare your living trust and assist in assigning your property to the trust. It is important that the items with title documents accurately include the name of your trust so that the assignment is effective.
Warning
Any property you own when you die that was not put in your trust may require your heirs to open probate proceedings to transfer title to the property from your name to the appropriate heirs. This will defeat your goal of avoiding probate. As you acquire property after making your trust, you should periodically review your estate plan to ensure that all of your property is in your trust.
Hemera Technologies/AbleStock.com/Getty Images